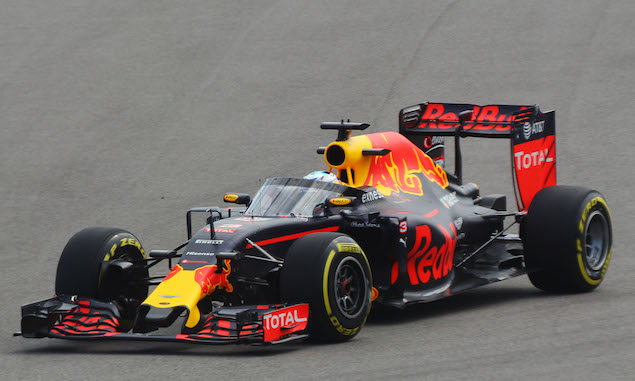 Daniel Ricciardo believes Red Bull should look to test the Aeroscreen at a night race after a successful first run at the Russian Grand Prix.
Red Bull ran its cockpit protection concept during FP1 in Sochi, with Ricciardo carrying the Aeroscreen for his installation lap. Having only had one lap with the device on the car, Ricciardo would like to have more time with it and believes a night race would be a good test of visibility.
"I think the plan is to probably try it again," Ricciardo said. "Maybe on a different circuit with some different scenery, whether it's a bit more undulation or a night circuit, the lights could be interesting with how it reflects off the shield.
"So we'll probably give it a bit more running. But first impression was actually fine. You hop in and it feels fine, sure it doesn't feel normal, but once I got going it was fine and I had a Ferrari in front and you can still see and pick where they were and lines and this and that so visibility seemed pretty good."
Explaining the feeling from within the car, Ricciardo says the acoustics were the most noticeable change rather than visibility.
"The engine and everything sounds a bit different, you don't have the interference with the wind. In all honesty the vision is fine, that seemed OK, so first impressions was fine. It was definitely driveable.
"Once you've got the structure in place it's pretty much where the mirrors are so, I wouldn't say you're limited any more than we are now in terms of visibility. It's obviously a bit different having that in front of you  but generally it was as good as we could have hoped for."
REPORT: Hamilton quickest as Vettel hits trouble in FP2
AS IT HAPPENED: Russian Grand Prix - FP2
Silbermann says ... 'Russia OK' shock
Romain Grosjean column: Haas brought back down to earth
Keep up to date with all the F1 news via Facebook and Twitter