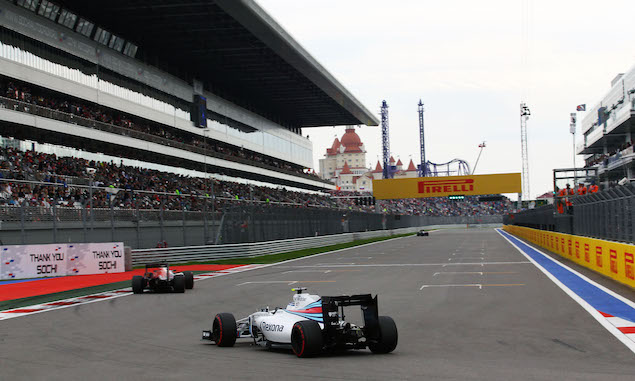 Rob Smedley says Williams "should not be scared of anybody" as it chases a podium in today's Russian Grand Prix.
Valtteri Bottas starts from second place alongside Nico Rosberg in Sochi, with Felipe Massa one row further back in fourth. Starting from such a strong position, Smedley - who is Williams head of performance engineering - wants the team to be aggressive against the likes of Mercedes and Ferrari.
"I think it is a good chance for us," Smedley said. "I certainly do not want to make any wild predictions, but we should not be scared of anybody. Mercedes included. When we race on Sunday afternoon, this team should not be scared of anybody.
"If you are scared of other people that it is better that you are not doing something as high stress as Formula One. We will go out there, we will race is hard as we can; we have a reasonable game plan. We have had that since we came here, and that has not really changed, we are just tuning it if you like."
And Smedley says the aim will be to score a podium with at least one car this afternoon having yet to finish in the top three so far this season.
"We definitely want to beat Red Bull because we have a quicker car. We definitely want to get in the mix with Ferrari and try beat them at the end of the race. Mercedes unfortunately they seem a little bit far away at the minute as we saw in qualifying, but we will get in there and try to get at least one of the cars on the podium. That is definitely the target."
REPORT: Rosberg takes pole as ERS problem hits Hamilton
AS IT HAPPENED: Russian Grand Prix - Qualifying
Romain Grosjean column: Haas brought back down to earth
Keep up to date with all the F1 news via Facebook and Twitter