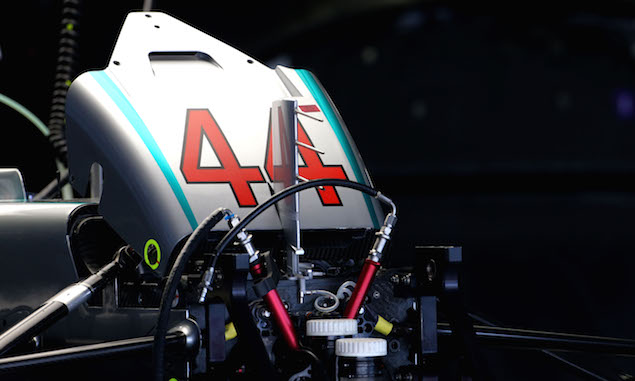 Lewis Hamilton will start from 10th on the grid for the Russian Grand Prix after efforts from Mercedes to not break parc ferme regulations.
The defending champion suffered an MGU-H problem during his final run in Q2 on Saturday afternoon and was unable to run in the final part of qualifying, leaving him 10th on the grid. However, if Mercedes needed to replace any parts they had to be of the same specification in order to comply with parc ferme regulations, otherwise Hamilton would have started from the pit lane.
Mercedes has made a number of changes within the regulations which are designed to maximise his chances of a strong result by avoiding a pit lane start.
"We have re-fitted his original Melbourne engine, number 1, which was here as a spare," a Mercedes spokesman explained. "It contains a new turbocharger and MGU-H, his third of the season, which were replaced after failure in China. We have also replaced the Control Electronics and Energy Store, to eliminate them as a potential source of the problem.
"The complication was in ensuring that we replaced with parts of the same specification, as we introduced an upgrade here for all eight Power Units, but did not have spare components on site. So we had to fly out a fuel system on a chartered jet yesterday evening, arriving here in the early hours, and the spare engine was then kitted with these parts during the night (the spare engine is not covered by Parc Ferme rules).
"When the car came out of Parc Ferme this morning, the spare Power Unit was fitted and has now fired up successfully in the garage."
REPORT: Rosberg takes pole as ERS problem hits Hamilton
AS IT HAPPENED: Russian Grand Prix - Qualifying
Romain Grosjean column: Haas brought back down to earth
Keep up to date with all the F1 news via Facebook and Twitter