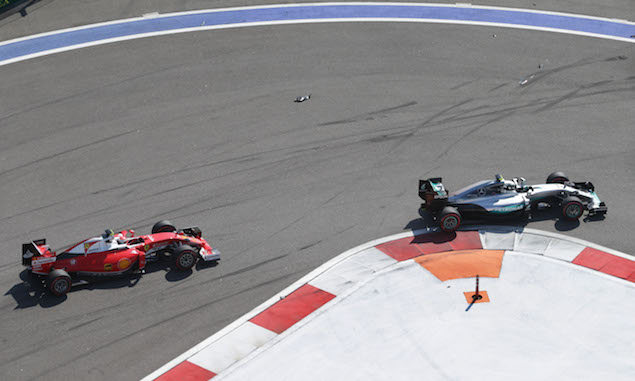 Kimi Raikkonen says it is difficult for Ferrari to pinpoint where it is lacking compared to Mercedes having yet to have a clean race weekend.
In three of the four races so far this season, only one Ferrari has finished while the other race saw Sebastian Vettel and Raikkonen collide at the first corner in China. With Nico Rosberg winning the opening four races and Mercedes already establishing an 81-point advantage in the constructors' championship, Raikkonen says a smooth race is required to help Ferrari make an accurate judgement on how big the deficit is.
"I think it's not very easy to pinpoint what we need but I'm sure we know quite a few small things that we want to improve and we know that there's some improvements coming but Mercedes were very fast for the last few years and they are fast this year," Raikkonen said.
"I don't think that so far this year we have ever really put together a really clean weekend either so that doesn't help. You cannot give anything away  and expect to beat a team like them.
"We definitely have it to be done but I am quite confident that once we get everything as we want that we can be very strong as a team. We've been failing to finish with two cars in the position that we probably deserve so yes, it's been disappointing but now we have a good way of doing things.
"We are behind where we want to be but I'm sure as a team we will get there."
With podiums in Bahrain and Russia, Raikkonen is currently third in the drivers' championship but already 55 points behind Rosberg and 12 points adrift of defending champion Lewis Hamilton.
Scene at the Russian Grand Prix