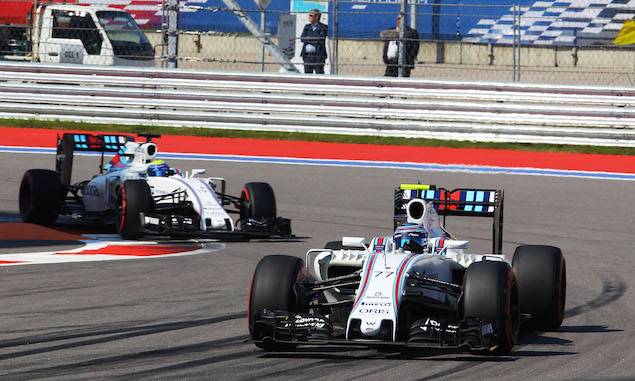 Williams has yet to have any reliability issues with the Mercedes power unit, according to head of performance engineering Rob Smedley.
Despite remaining the dominant team this season, Mercedes has struggled with reliability during the opening four races, with Lewis Hamilton starting from the back of the grid in China and tenth in Russia as a result of an MGU-H problem.
Nico Rosberg was also hit by concerns in both Australia and Russia, but when asked if Williams has had any similar problems, Smedley replied: "So far not.
"I know that HPP [Mercedes High Performance Powertrains] are investigating the two Hamilton failures, trying to understand what the problem is.
"We are taking all the precaution that we can but obviously we have to be guided by HPP. They're currently trying to get to the bottom of that problem and we'll just follow their lead on it really, whatever they ask us to do."
Mercedes admitted following the Russian Grand Prix that its reliability so far this season has been concerning for the team.
"Performance-wise we are right on the money – with a points haul just two shy of what we had managed by the same stage in 2015," Mercedes wrote in an open letter to fans. "But there is work to be done.
"Our goal is not simply to be fast but bulletproof too. Not just to manage problems but to understand them, fix them and ensure they are not repeated. We are working tirelessly to do just that and will continue to do so every step of the way. But there are no guarantees. This is a mechanical sport, balancing on the knife edge of performance and endurance. You have to push the boundaries and failures can happen."
OPINION: Why Red Bull is right to promote Max Verstappen
Silbermann says ... Red Bull Clips Your Wings
Scene at the Russian Grand Prix