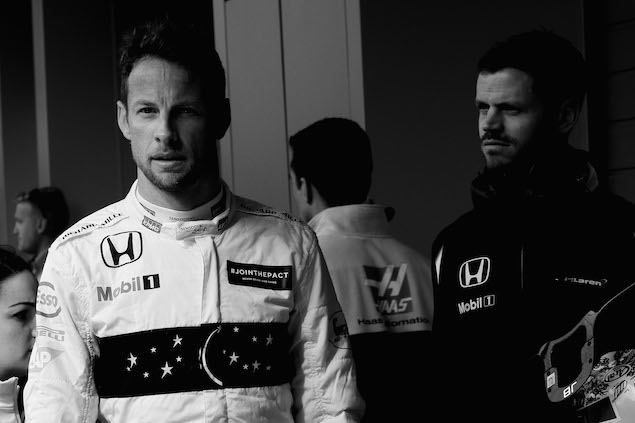 McLaren-Honda star Jenson Button admits "we're not going to be winning races this year", though the Briton is confident there is more to come from his 2016 package.
The British outfit and Japanese manufacturer experienced a torrid reunion last year amidst poor engine reliability and performance. Despite making noticeable headway over the winter, McLaren-Honda remains some way behind the front-running teams.
Speaking to F1i's Chris Medland in an exclusive interview, Button is aware of the work that still needs in order to be done to further cut the gap.
"It's never as quick as you want it to be, I think that goes for everyone in the team," the 2009 world champion said. "Same as everything in life. But we also realise how competitive this sport is and you're not going to suddenly win races from the word go with a new manufacturer that's a year and a half behind in terms of development. So last year was tough, this year we haven't really seen the best of us.
"There's still a long way to go in terms of our outright pace but I think the important thing now on the race weekends is just to make sure we get everything out of what we have and I don't think we've done that so far this year. Monaco is an interesting race for us but we will see progress through the year. But no, we're not going to be winning races this year."
Button and team-mate Fernando Alonso have repeatedly preached patience and shown their faith in the McLaren-Honda project, often claiming it is the only one that can end Mercedes' current dominance. The Briton insists the pair has not lost any motivation while toiling in the midfield.
"You still come to the race and do the best you can. I don't think any driver gets in the car and doesn't give his best because you want to do the best for yourself and you've still got competition whether it's your team-mate or other cars out there. So it's absolute rubbish that drivers don't push when you're not in a competitive car. Why would you not push?
"This is what we do for a living, this is our job, this is our hobby, this is our life. Why would you get in the car and drive at 9/10? It just doesn't happen. Everyone's pushing because you still want to look good against your team-mate. So I don't believe it when I hear anyone say that."
McLaren-Honda heads to next weekend's Spanish Grand Prix on the back of its first double points finish since Hungary 2015, with Alonso and Button securing sixth and 10th respectively in Sochi last Sunday.
F1i Classic: Schumacher's "5th gear only" signature drive at the 1994 Spanish GP