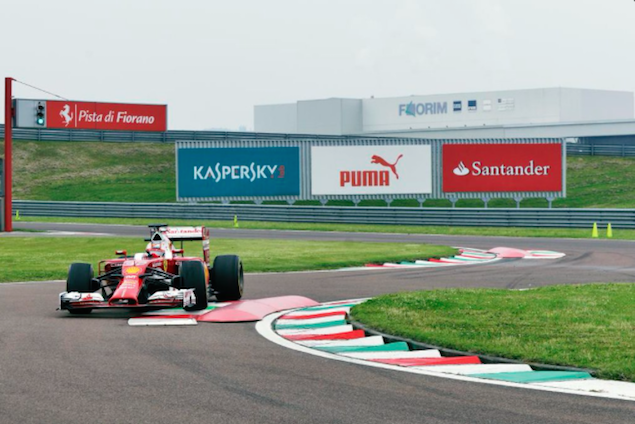 Ferrari Driver Academy (FDA) member Charles Leclerc successfully completed his first ever Formula One test, with the Monegasque driver piloting a 2014-spec F14 T at Fiorano.
Leclerc was added to the FDA roster earlier this year, while also landing a development role with Ferrari and Haas F1 Team. The 18-year-old will be competing in GP3 Series at ART Grand Prix this season after finishing top rookie in the 2015 European Formula 3 championship
According to Autosport, Leclerc's run started under wet-weather conditions before the teenager could sample the hard, medium, and soft Pirelli demo tyres.
The report adds that the aim of this outing was to complete the 300 kilometres necessary to be granted a free-practice-only superlicence, with Haas hoping to give Leclerc an FP1 outing later this year.
Former Ferrari sporting director Massimo Rivola, who was appointed at the helm of the revamped academy over the winter, admits a race weekend participation is on the cards for Leclerc this year.
"I'm not really talking to him about that because he knows his focus is to fight for the GP3 championship, which is the main target," Rivola told Autosport.
"This [FP1 outing] is not a stress. If it happens, then fine, and it's likely it will happen.
"If it comes, then I would prefer it to be towards the end of the season because then he will be completely ready.
"One of the risks with these young kids is if they start thinking about Formula One then they will lose focus, but I have every confidence in him.
Leclerc has been a highly touted prospect for a couple of years now. Asked to assess the teenager's performance, Rivola said he was impressed by his maturity and poise in mixed conditions.
"For a young driver he has a good head on his shoulders, and not many drivers have that, so that was the first target for him.
"Overall he did a very good job, he showed he was quick, and there were no noticeable mistakes."
Silbermann says... Too many angry Bulls in Spain
Technical focus: Halo or Aeroscreen?