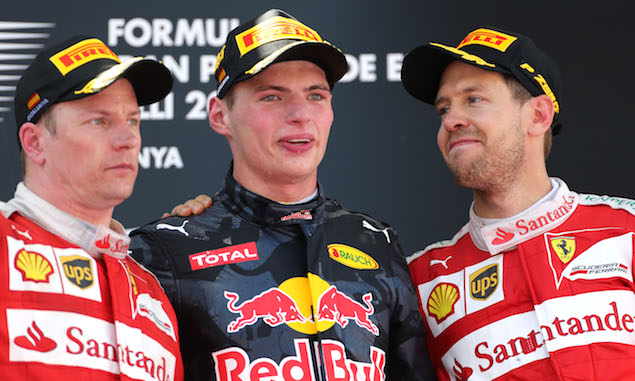 Christian Horner says Max Verstappen has "uncanny" similarities to former Red Bull driver Sebastian Vettel.
Verstappen was promoted to Red Bull ahead of the Spanish Grand Prix and delivered a stunning drive to take victory on his debut for the team. Horner was full of praise for the performance on Sunday night and when asked if Verstappen reminds him of any driver the Red Bull team principal picked out the four-time world champion.
"Well it's quite uncanny really because there are a lot of similarities to when Sebastian joined the team," Horner said. "The mechanics were telling me even the way he gets in the car is similar, from the same side.
"The way he pulls his knee up to get into the chassis and so on and so on so there are some similarities there but he is his own man as well and I think he's a very together young guy, you'd never think he was 18.
"He's the first driver I had that legally I could be his father and he's been hugely impressive, with everything that we have seen so far in him. It doesn't get any better than that really does it."
And Horner says Verstappen's ability to handle the pressure put on him by Kimi Raikkonen late in Sunday's race, while also managing very old tyres,  highlights how good the 18-year-old already is.
"Absolutely. I mean I think it probably was like driving on ice because the stint was a really long one and we thought we were going to be through to the canvas to be honest with you.
"He knew what the plan was at the point of the last pit stop and he was happy to have Kimi within a second of him, but still not over slip the tyres, not lock a brake, not run too deep into a corner and to have that degree of confidence and composure is the sign of a very bright future."
REPORT: Verstappen takes stunning first win as Mercedes collide
Breakfast with ... Claire Williams
Romain Grosjean column: Spain will show the real Haas
Keep up to date with all the F1 news via Facebook and Twitter