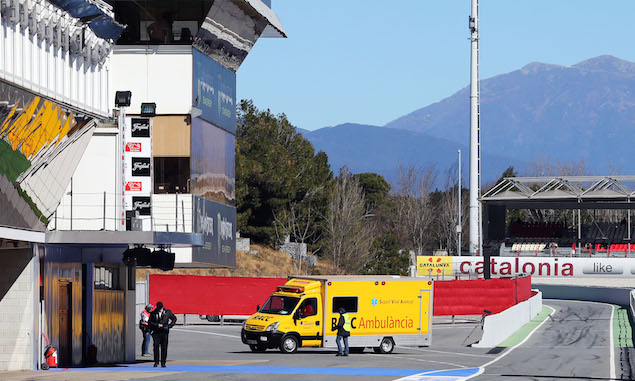 McLaren says it is up to Fernando Alonso's doctors to answer "the remaining unanswered questions" regarding his crash in testing.
Alonso was hospitalised for three days as a result of hitting the wall at the Circuit de Catalunya on the final day of the second pre-season test. With the cause of the accident attributed to strong winds and Alonso ruled out of the final test, the incident has led to a large amount of media coverage.
McLaren told F1i it attempted to quash speculation as soon as possible but says it is down to the doctors to answer any further questions on Alonso's condition.
"The day after the accident, we issued a press release, the chief purpose of which was urgently to correct a series of erroneous media reports to the effect that Fernando's accident had been caused by a variety of car-related issues," a McLaren spokesman said.
"As regards answering ongoing questions as to Fernando's medical situation, McLaren will not and indeed should not take the lead, since his medical care is being handled by the people best equipped for that task, namely his doctors.
"So all we can say is that he is making good progress, and that we hope and expect he will soon be back to his brilliant best.
"We understand the media's thirst for further information, but, as I say, the remaining unanswered questions will be answered by doctors, not by Formula 1 personnel."
Comment: What a tangled web we weave
The final day of testing as it happened