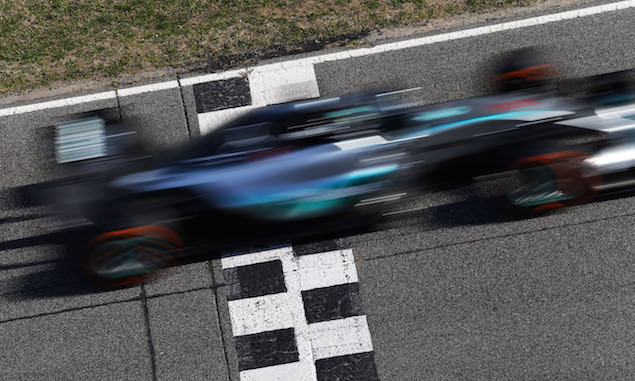 The pole position time for last year's Spanish Grand Prix was beaten by 2.5 seconds during the final test at the Circuit de Catalunya this year.
New regulations in 2014 saw last year's cars lapping considerably slower than their predecessors as teams adapted to new power units and different aerodynamic rules. However, with a year's development since then, Nico Rosberg's time of 1:22.792 - set on the soft tyre - was comfortably quicker than the 1:25.232 Lewis Hamilton posted to set pole on medium tyres at last year's race.
Pirelli's Paul Hembery says the step in performance is clear, and believes it could be even greater when the teams run the soft and supersoft tyre in more representative conditions.
"Barcelona represented the final opportunity for the teams to assess the interaction between our latest tyres and the 2015 cars, which as we have all noted appear to be significantly quicker than last year's cars," Hembery said. "We've seen a difference of up to two seconds, and that gap could be even bigger on the softer compounds. Because of this, the way that the tyres work with the cars has altered, which clearly has an effect on set-up and strategy.
"Although we had track temperatures that peaked at 31 degrees centigrade, conditions were still generally much cooler than we will typically see at most of the races, so this is another factor that has to be considered, particularly in the case of the hard tyre.
"The teams were able to test the entire range of 2015 P Zero tyres in Barcelona, which have a new rear construction this year, including the supersoft, which has a brand new compound as well. The soft compound set the fastest time of the test: two and a half seconds faster than last year's pole time."
The final day of testing as it happened