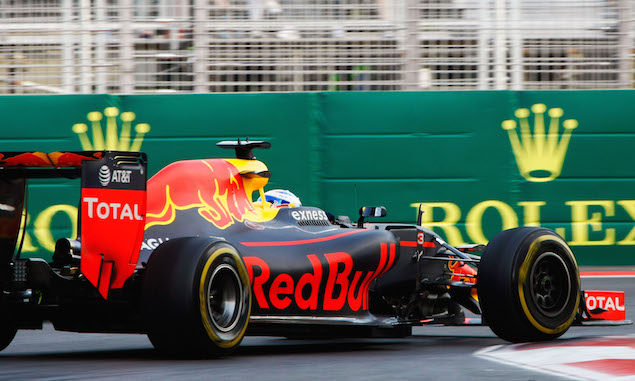 Christian Horner believes Red Bull's tyre woes in the Grand Prix of Europe were a result of removing downforce to compensate for a lack of straight-line speed.
While Renault has made clear progress with its power unit, the 2.1km run from Turn 16 to Turn 1 at the Baku City Circuit hurt Red Bull. As a result, the team ran a low downforce configuration to try and limit its losses on the long straight compared to the likes of Mercedes and Ferrari.
Daniel Ricciardo started from second on the grid but both he and team-mate Max Verstappen needed to stop twice during the race - compared to once for most teams - leaving them seventh and eighth at the chequered flag.
"Having started from the front row we expected a lot more from the race but we got ourselves into tyre issues fairly early on, as early as lap four or five really," Horner told F1i. "For the first few laps, Daniel was easily able to go with Nico and then suddenly the rear tyres started to get into trouble."
Asked if he could see the tyre problems coming after suffering from them for two races in a row, Horner replied: "Not really.
"Particularly even after the first stop we felt we should have been alright on the soft tyre because of the working range and robustness of that tyre, but even with that tyre we got into issues. Then we went on to the medium tyre and the car was in a window that it was happy with and the lap times were there. Max set the third fastest lap of the race, so frustrating really.
"I think it's when you're chasing straight-line speed you trim the downforce off the car, you then introduce perhaps some other issues which you hadn't considered, or hadn't been visible to us before."
RACE REPORT: Rosberg cruises to victory in inaugural Baku race
Silbermann says ... Ballrooms and having a ball in Baku
Keep up to date with all the F1 news via Facebook and Twitter