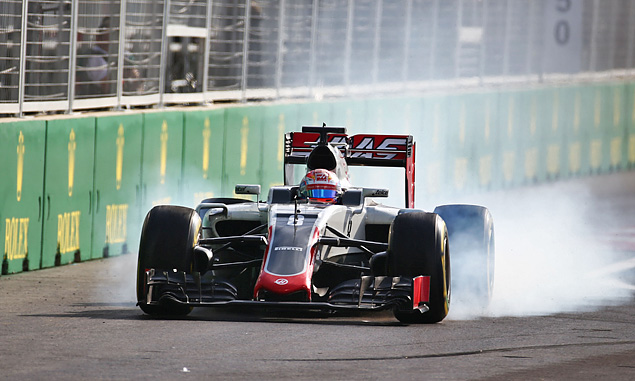 Haas team principal Guenther Steiner bemoaned another trouble-hit race for his team as it failed to score points in the Grand Prix of Europe.
Romain Grosjean was showing encouraging pace in the first part of the race but was forced to make an extra pit stop having picked up some debris which became lodged in his sidepod. With team-mate Esteban Gutierrez locking up at Turn 1 and damaging his car at the start, Steiner said he was expecting a chaotic race where staying out of trouble would be crucial but found both Haas cars suffering issues.
"I think we don't have a problem with the race pace, we didn't have a problem with the race pace - afterwards you can always do better but we're not worried about the race pace," Steiner said. "It's just that once you have to do one pit stop too many that is where you end up.
"A pit stop is 26 seconds, plus until you discuss what to do you lose another seconds and then you get lapped you lose time so it is always adding up. So again, different world we could have been in the top ten, you know. But - different world. The good thing is none of our main competitors scored any points as well.
"It was quite a tame race, I would call it. We all expected havoc. I said [on Saturday] if we keep out of trouble, but normally we are causing the trouble and we are in the middle again so it just can get better at the moment.
"But we are confident that the car is good, we're not having a problem with the car, with the performance of the car, we are where we think we are, where we want to be, we just need to get the race weekend together and get a little bit of luck - maybe we spent a little too much luck in the first two races but we'll come back again. With the right car you can get lucky again."
Grand Prix of Europe - Driver ratings
RACE REPORT: Rosberg cruises to victory in inaugural Baku race
Silbermann says ... Ballrooms and having a ball in Baku
Keep up to date with all the F1 news via Facebook and Twitter