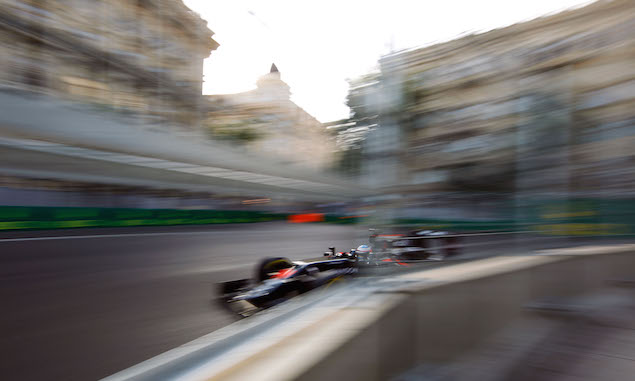 Honda did not suffer a repeat of its high fuel consumption problems during the Grand Prix of Europe as it showed "better than expected" performance.
The Canadian Grand Prix saw Fernando Alonso hampered by high fuel consumption, with Honda's head of F1 project Yusuke Hasegawa admitting Alonso's pace was hurt by the need to save fuel from a very early stage. While the Baku City Circuit was expected to provide a similar test, Hasegawa says Honda performed better on that front.
"I think it was better than expected," Hasegawa said. "We thought that we were very much in trouble, especially in the race on the straight, but because we were using lower downforce settings and the drivers were utilising the tow position very much I think they did a very good race.
"The power unit is exactly the same as it was in Canada. I didn't analyse the telemetry but fuel consumption is better which is similar to what we expected, which is good. But I think it was because of the lower downforce settings and utilising the tow position.
"As a matter of fact I don't think both drivers had a lot of fuel saving. Maybe a couple of laps they did but I don't think they did."
And Hasegawa says Honda can take some credit for the improvement in fuel saving since the start of the season as a result of recent power unit upgrades.
"Yes we did, because we updated the turbine so recovering the energy and everything is getting better. So that helped very much. We can save fuel because we can use electricity instead of that."
Grand Prix of Europe - Driver ratings
RACE REPORT: Rosberg cruises to victory in inaugural Baku race
Silbermann says ... Ballrooms and having a ball in Baku
Keep up to date with all the F1 news via Facebook and Twitter