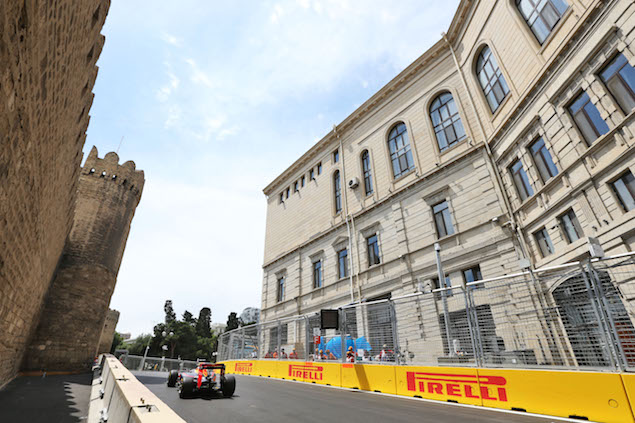 Daniel Ricciardo admits he initially did not know what to expect from the inaugural Formula One race at Baku City Circuit but claims the venue is "a keeper" after sampling it last weekend.
F1 has been extending to new territories at a rapid pace since the turn of the century, with grands prix held for the first time in Malaysia, Bahrain, China, Turkey, Singapore, Abu Dhabi, Korea, India, Russia, and finally Azerbaijan.
Of these tracks, some have already fallen off the sport's radar while others have become quite popular with fans and drivers alike. Ricciardo is confident Baku will quickly belong to the latter category.
"When Azerbaijan came onto the calendar, I didn't know much about the place – I wasn't on my own there, mind you," the Australian wrote in his first column for the Red Bull website.
"I knew it was further east than Sochi, but that was as good as my geography was going – I had no idea where exactly it was on the map, and I didn't know the track was right on the sea.
"I thought the whole thing was great and the race there definitely seems like a keeper compared to some of the places we've gone to and then stopped going to after a few years.
"I really enjoyed it – everything was convenient, you could walk straight into the paddock from the hotel – and it didn't seem like a new race as everything just seemed to be in the right place and established, which isn't always the way."
Some drivers were vocal about their concerns over safety around Baku's street track, but Ricciardo, who got up and close and personal with the wall in FP1, says he relished the challenged and thoroughly enjoyed his time at the wheel.
"The track was awesome. For me, it felt a bit like Singapore in sections, bits of it reminded me of Macau, bits that were unique – it was a long lap too, which is pretty unusual for a street circuit. You could really attack it, so it was heaps of fun to drive, and a good combination of outright speed and some technical driving and risk.
"Turn 9 where we brushed alongside the castle there – on the simulator it seemed tight, but I did a track walk, I couldn't believe how tight it was and how little margin for error there was. But for me, that's really refreshing that a corner can be tighter and more difficult than we expected."
Scene at the Grand Prix of Europe
Grand Prix of Europe - Driver ratings
Silbermann says ... Ballrooms and having a ball in Baku
Keep up to date with all the F1 news via Facebook and Twitter