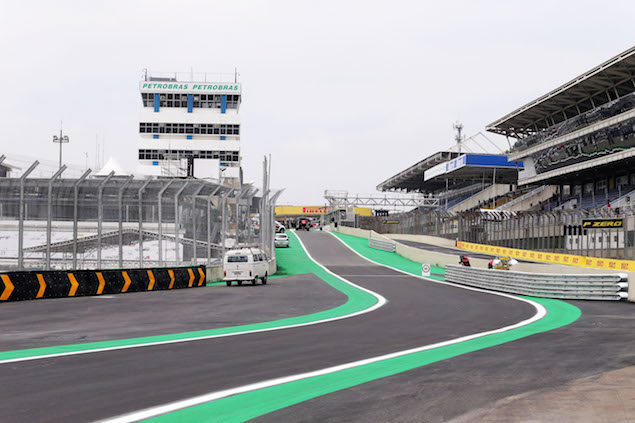 Interlagos bosses have quickly moved to insist that the São Paulo venue will carry on hosting the Brazilian Grand Prix beyond 2016, after F1 supremo Bernie Ecclestone recently cast doubt over the event.
Autodromo José Carlos Pace is currently undergoing a major facelift in a bid to improve the circuit's facilities and seal a five-year extension to its existing deal, which goes through the end of 2020.
However, political unrest and financial turmoil in Brazil have led to reports claiming the situation will prevent the completion of the required renovation works. Speaking about the Brazilian Grand Prix to the media in Baku last weekend, Ecclestone warns it could be dropped after this year's edition.
The organisers of the race at Interlagos have issued the following statement: "The circuit's engineering department conducted a visit for the Brazilian press on 22 June to show the current work which should complete the ambitious three-year, U$ 60 million programme to improve the various facilities of the classic Interlagos circuit before the forthcoming Brazilian Grand Prix which shall take place on 11, 12 and 13 of November.
"The circuit, a great favourite of drivers of all categories due to its challenging layout and many overtaking opportunities has been hosting the Brazilian Grand Prix since 1990 when the race was moved from the city of Rio de Janeiro.
"The city's current contract runs through 2020 and it is expected that after this year's municipal elections conversations will take place with the Commercial Rights Holder and the FIA to extend it for a further five years period.
"The Brazilian Grand Prix is the only race of the F1 World Championship in South America and has a huge following on worldwide television making it one of the pivotal races of the series."
Scene at the Grand Prix of Europe
Grand Prix of Europe - Driver ratings
Silbermann says ... Ballrooms and having a ball in Baku
Keep up to date with all the F1 news via Facebook and Twitter