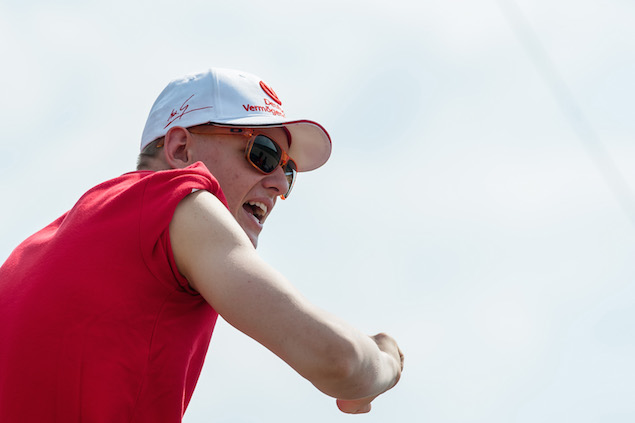 Mick Schumacher - the son of seven-time Formula One world champion Michael Schumacher - says he does not want his racing career to be "rushed", after the 17-year-old's strong start to the season in German and Italian F4.
Schumacher, who made his single-seaters debut in 2015, is currently sitting second in both Drivers' championships, having secured a trio of wins and pole positions in each series.
Shortly after joining renowned Italian outfit Prema Powerteam last winter, Schumacher was tipped to enter the revamped Ferrari Driver Academy with an early graduation to F3 also on the cards. However, the teenager and his manager Sabine Kehm eventually decided to contest another year in F4.
"For the moment, my goal is to become a good and complete race driver," Mick Schumacher told Pirelli.com. "This means taking one step after another, working hard on myself and always giving my best.
"I am convinced, this is the only way to achieve your goals and I am very convinced that I will reach these goals. Because of this, it's important to me to have a solid base and to become confident in all areas racing will be confronting me with.
"Exactly for this reason I will not be rushed and will not only have an eye for the quick results, instead I will be working on myself constantly and focused. Racing is an extremely complex sport, which makes it difficult and at the same time really fascinating."
Mick's progress has come under close scrutiny given his famous surname. Current F1 points leader Nico Rosberg, who partnered his father Michael at Mercedes from 2010-2012, declared at the end of last year: "I hope he can enjoy the racing despite all the hype."
Speaking about his passion for motorsport, Schumacher Jnr added: "Racing is what I dream of. Actually, racing is constantly on my mind. It's exhausting, it's difficult, it's challenging, it's complicated. It's simply awesome.
"I can not think of anything better than to be on the racetrack, aiming for the perfect lap and always trying to improve my performance. I am willing to work hard on myself because I know, this is the only way to fulfill your own dreams."
Chris Medland's 2016 Austrian Grand Prix preview
Exclusive Felipe Massa Q&A on a Williams resurgence and his future
Romain Grosjean interview: I can stop Haas sliding
Keep up to date with all the F1 news via Facebook and Twitter