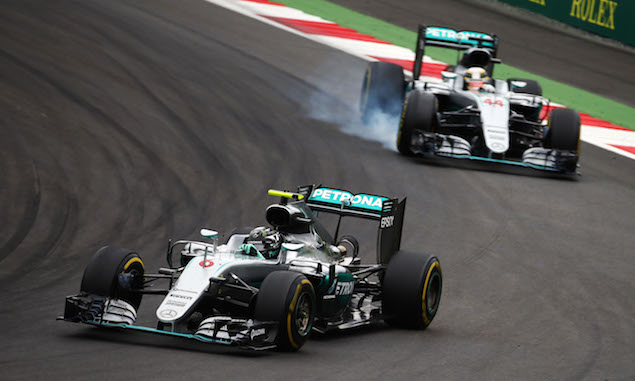 Mercedes says Lewis Hamilton and Nico Rosberg "remain free to race" each other for the world championship but has added "much greater deterrents to contact".
Hamilton and Rosberg collided on the final lap of the Austrian Grand Prix, with Hamilton going on to win the race and Rosberg slipping from the lead to fourth place. That followed a collision which took both drivers out of the race at the start in Barcelona, while they also touched at Turn 1 in Canada.
With so many incidents already this season, team boss Toto Wolff suggested team orders were an option in order to prevent any repeats.
Following meetings between team bosses Wolff, Paddy Lowe and the two drivers at Mercedes headquarters on Thursday morning, the team released a statement explaining it would let Hamilton and Rosberg race but hinted at greater punishments for future contact.
"This morning at the headquarters of the Mercedes AMG Petronas Formula One Team in Brackley, UK, positive meetings were held between Toto Wolff, Paddy Lowe, Lewis Hamilton and Nico Rosberg," the statement read.
"Our drivers were informed that they remain free to race for the World Championship.
"We believe this is the essence of Formula One, including between team-mates. As passionate racers, we want to see them racing, and so do the fans of Formula One.
"However, this freedom comes with a duty for our drivers to respect the values of the team.
"In the past five races, there have been three incidents which have cost us over 50 points in the Constructors' Championship.
"We have therefore strengthened our Rules of Engagement to include much greater deterrents to contact between our cars.
"With these in place, we will trust our drivers to manage the situation between them on track. Their destiny is in their own hands.
"The drivers were also reminded that we may issue instructions during the race to protect against a potential loss of Constructors' points, such as we did at this year's Monaco GP when Nico was instructed to let Lewis pass.
"If the drivers do not honour the revised Rules of Engagement, we may impose team orders as a solution of last resort.
"Finally, we restated our belief in Lewis and Nico as the best driver pairing in Formula One.
"Since 2013, we have won together a total of 43 races and 40 further podium finishes, plus two consecutive World Championships. This record speaks for itself."