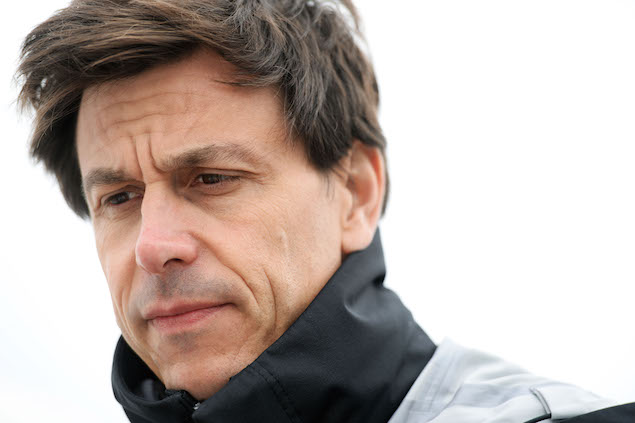 Toto Wolff says Mercedes will "not elaborate in public" about the intricacies of its revised rules of engagement between Lewis Hamilton and Nico Rosberg, though he hints at financial penalties.
Following the title rivals' latest coming together in Austria, the Mercedes motorsport boss warned that team orders were on the table. The reigning Constructors' world champions eventually ruled that Hamilton and Rosberg "remain free to race".
One caveat is that "much greater deterrents to contact" have been added, but Wolff refused to go into further detail when speaking to reporters ahead of the British Grand Prix at Silverstone.
"We decided we wouldn't elaborate the rules in public.
"Because it is like a contractual detail. We are talking about possible sporting, possible financial consequences and we wouldn't want to go into detail.
"The discussions were very good and I think it is clear for both drivers that we – Mercedes – are going through a tough time if we lose points and if the cars collide and that was acknowledged."
Despite his unwillingness to go into the topic at length, Wolff was still quizzed about whether measures like a race ban or a change in the driver line-up are on the cards.
"If I answer the question it would be going into detail again. You know how a driver is calibrated and what is important for a driver so it is clear that if it would happen – which is entirely in their hands – it is something that would have a negative outcome for their campaign.
"The drivers are heroes. The stars of the show. I don't want to belittle them in public and by answering the question there is a risk I would do so, so I will not go there."
Wolff also admits Mercedes had to walk a fine line with its new rules of engagement because it did not want to take its drivers' racing edge off.
"They drive a Mercedes because it is exactly how they are but we have had an accumulation of accidents in the last couple of races that has led to a situation that we somehow we need to contain.
"This is the tricky bit because if you have a yellow card, will it change your way of thinking or not? Because you know what happens with a second yellow card and it is a scenario that none of us wants to be in."
Chris Medland's 2016 British Grand Prix preview
From the cockpit: Felipe Nasr on back-to-back races
Scene at the Austrian Grand Prix
Keep up to date with all the F1 news via Facebook and Twitter