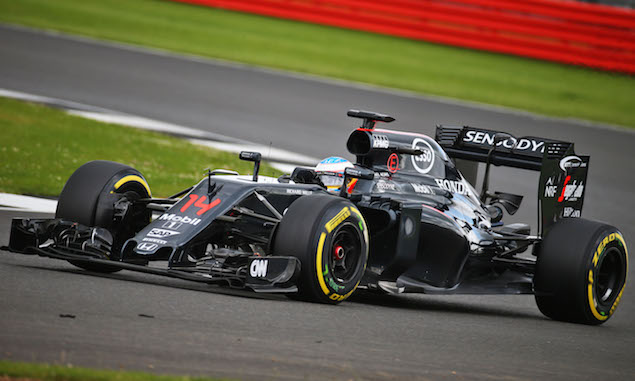 Fernando Alonso was over 1.5s clear of the rest of the field on the opening morning of the Silverstone in-season test on Tuesday.
The McLaren driver set the pace in the opening three and a half hours of running, posting a time of 1:31.290. Alonso's time - set on the supersoft tyre - was nearly half a second quicker than his best lap from qualifying on Saturday, which was a 1:31.740 set in Q2.
Alonso enjoyed a clear advantage over the rest of the field for the majority of the session, with Esteban Ocon second fastest for Mercedes but 1.543s slower than the McLaren. Ocon was driving the W07 for the first time and enjoyed a very productive morning, completing 80 laps.
Third fastest was Alex Lynn in the Williams, but the Briton was 1.6s slower than Ocon and more than three seconds adrift of the fastest time. Lynn - who had a difficult weekend in GP2 at Silverstone - posted a best time of 1:34.433 as he completed all of his running on the medium tyre.
Ferrari struggled for track time during the morning session, with GP3 championship Charles Leclerc completing only 17 laps. More than half of those came in the final half hour of the session and saw Leclerc set the fourth fastest time, 0.017s slower than Lynn and over 3.2s off Alonso's benchmark.
Force India was one of the teams to use the softs during the morning session, with 17-year-old Russian Nikita Mazepin making his F1 debut. Mazepin enjoyed a solid first session, with his best time leaving him fifth on the timing, just 0.088s off Lynn's lap.
Carlos Sainz was one of only four race drivers taking part on Tuesday - alongside Alonso, Rio Haryanto and Pascal Wehrlein in the 2014 Mercedes - and was sixth quickest in the Toro Rosso. Sainz focused on medium tyre runs as he completed 77 laps.
Another debutant on Tuesday is Santino Ferrucci in the Haas, with the American getting his first taste of F1 machinery. Ferrucci sampled the hard compound tyre late in the session, but his best time of 1:34.866 came earlier on the mediums.
Pirelli is testing 2017 tyre compounds - but not sizes - on a 2014 car, with Wehrlein driving the Mercedes W05 during both days of testing. The Pirelli test is blind, meaning Wehrlein and the team are unaware of which prototype tyres they are running, but he was half a second adrift of third-placed Lynn at the end of the morning session.
Red Bull endured a frustrating morning after testing the Halo cockpit protection device during its installation lap. Pierre Gasly brought his lap tally up to seven during the first hour but then failed to emerge again in the session before the earlier lunch break.
The afternoon session is set to run from 13:30 until 18:00 local time.
LIVE: Silverstone in-season test - Day 1
Silbermann says ... Radio Ga Ga
2016 British Grand Prix - Driver ratings
Keep up to date with all the F1 news via Facebook and Twitter