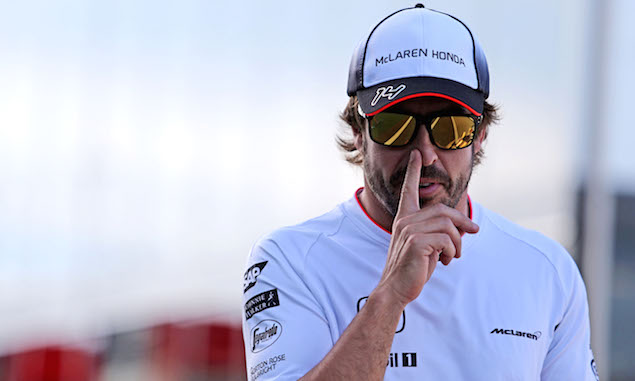 Fernando Alonso believes F1 needs to give more freedom to teams and drivers in future, saying "you are allowed to breathe and not much more".
The current technical regulations will be overhauled next season to reduce lap times by up five seconds and make cars more aggressive-looking, while wider tyres will be introduced. However, with the FIA imposing heavy restrictions on radio messages and Pirelli limiting tyre pressures, Alonso says there is not enough freedom in the sport at present.
"The rules? It's difficult to say," Alonso said when asked where F1 should be in five years. "I think a little bit more freedom for the teams, the drivers, relaxing a little bit everything will be good, like it has been always in F1.
"I think the teams had the possibility to choose the weight distribution, to choose their own cambers and tyre pressures, their own philosophy of rear wing or even six wheels on a car! Now if you painted all the cars black you would not know which team is that car.
"The cars look similar, but just different colours because the rules are quite strict. We need to make the car like this, with this width, this height and everything. It is a little bit strange.
"It's the same for the drivers, if we had a little bit more freedom to race and less penalties. We have to do the same thing at the same time at the same hour and if you don't do one of these things you have to go to the stewards and you will have a penalty - a time penalty, a reprimand, points … it doesn't matter if you are five minutes late to the briefing or if you go five minutes late to the autograph session. You are allowed to breathe and not much more."
And Alonso believes stories such as the update to FIA radio message restrictions and new track limit sensors are just designed to keep the sport in the news for trivial reasons.
"Here [in F1] everything is a mountain, even small things. It's part of the sport and probably something Formula One wants, to keep people talking. Now that the show is not very good, it's good to have some polemics around the races.
"I don't think that there being one team dominant [is the problem], it has always been like this in a way. But the show was good enough and now it is not good enough for whatever reason – because the cars are too slow, too heavy or the noise is not good or the prices are too high or whatever.
"Whatever it is, I don't know, it's not the same and it's something obvious. When you see some regulations changed or some polemics or track limits or radio restrictions, sometimes I think they have made this to tale about something between races, because it makes no sense."
Romain Grosjean column: Safety car starts and summer breaks
Chris Medland's 2016 Hungarian Grand Prix preview
Technical snapshot - Silverstone
TECHNICAL: Under the skin of the Mercedes W07
Keep up to date with all the F1 news via Facebook and Twitter