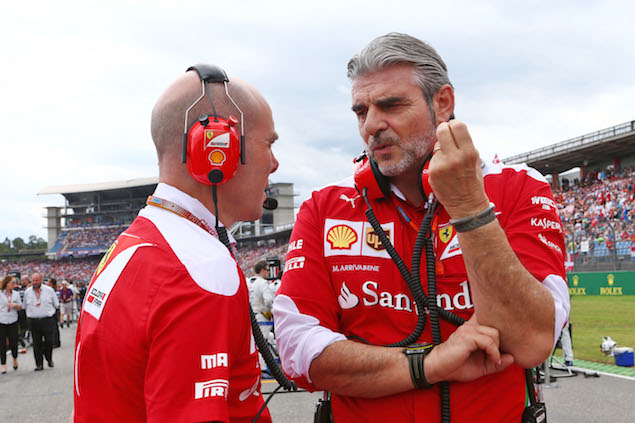 Maurizio Arrivabene has hinted that Ferrari might not need to find a direct successor to James Allison, with the Scuderia keen to reshuffle its technical organisation in a manner similar to McLaren.
Technical director Allison left the team on the eve the German Grand Prix, which saw the Maranello-based outfit endure another challenging weekend and drop behind Red Bull in the Constructors' championship.
Mattia Binotto has been promoted to replace Allison as the new chief technical officer, though the former head of Ferrari's power unit department does not have the same experience in terms of chassis development.
Despite reports about Ferrari trying to lure Ross Brawn back to F1, Arrivabene explains why the Scuderia's planned restructuring makes Binotto the right man in charge.
"He will work with the team to help improve the car," the team principal is quoted as saying by Motorsport.com. "All the technicians talk to each other, but the difference is very important: there will be no more of 'this is 'Mr X's' car'.
"There will be a car that will be the result of the co-operation between all the working groups involved in the project."
Ferrari seems to lean towards a less hierarchical organisation that would be led by several key members of staff, similar to McLaren's three-headed technical department with chief engineer Peter Prodromou, technical director Tim Goss and director of engineering Matt Morris.
Arrivabene thinks the overhaul will help Ferrari identify in-house talents and promote them, though Toro Rosso technical boss James Key has reportedly been approached by Maranello.
"We are modifying our technical structure but we'll complete this operation only when we understand if we already have in the team engineers with untapped capacity," Arrivabene added.
"I think that we have some talent. The question I ask myself though is: why, if you have these skilled people, does their talent not come out? If you have good engineers but they spend time on [less important jobs] if it clear that we are losing important opportunities.
"Our role is to show the target, and to make sure that the objectives are to be achieved. If the concepts are clear, I think we don't need to look outside Maranello for new engineers. We are not looking for the mega-talent.
"When there is a figure like a mega-talent, it is normal for all the technical team to follow what he says. But we have not this kind of man. We are working on a new horizontal structure and the coordinator is Mattia Binotto."
Scene at the German Grand Prix
Quotes of the week - German Grand Prix
2016 German Grand Prix - Driver ratings
Breakfast with ... Christian Danner
Keep up to date with all the F1 news via Facebook and Twitter