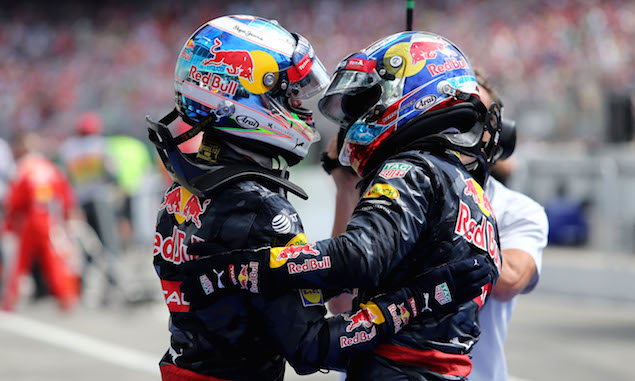 Red Bull will not have to deal with the same tension as Mercedes between its drivers if it is fighting for the championship in future, according to Max Verstappen.
Lewis Hamilton and Nico Rosberg have had a fractious relationship as team-mates since Mercedes became the dominant force in F1, with a number of collisions occurring this season including in Spain and Austria. Verstappen was promoted alongside Daniel Ricciardo this season and he understands the stakes are higher at Mercedes but told F1i the two Red Bull drivers will deal with such a situation better in future.
"Of course when you are fighting for a world championship and it's between two drivers who want to be world champion then it's always a bit more tense but it's up to the management and the drivers themselves to respect each other," Verstappen said.
"I think that will be different between me and Daniel because we respect each other. It doesn't mean you say when you are behind you can go by, no, you still fight hard against each other but fair."
With Red Bull currently second in the constructors' championship, Verstappen sees himself staying with the team for a number of years following his promotion as payback for the faith it has put in him.
"I'm very happy where I am right now and of course they gave me the possibility to start in Formula 1 so it's kind of loyalty as well. Now I'm at Red Bull I'm very happy here for a few years. Hopefully next year we can fight for more victories, we'll see. It's still to early to say that but that's definitely our target."
F1i Classic - Mayhem, monsoon and the mother of all Belgian Grand Prix
Max Verstappen interview: Destined to be a champion?
From Sauber to Ferrari - Exclusive interview with Kimi Raikkonen on F1's evolution
Keep up to date with all the F1 news via Facebook and Twitter