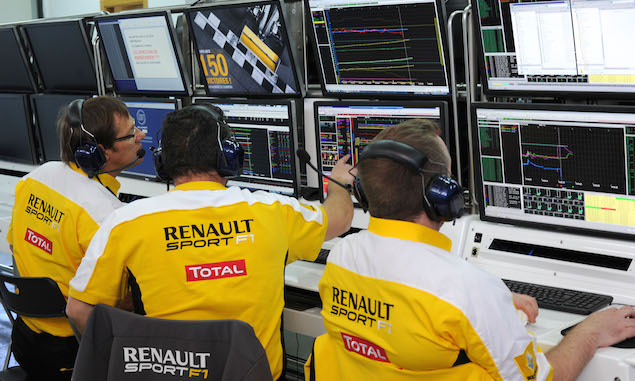 Renault says it pushed the life of its power unit components more than required last season in order to prepare for the 2015 regulations.
With the exiting engine manufacturers being limited to just four power units for the whole season this year - compared to five in 2014 - Red Bull team principal Christian Horner admitted earlier this week that "it's difficult to envisage doing 20 races on four engines". However, Renault Sport F1 director of operations Remi Taffin says some of the focus last season was on preparing for the new regulation.
"Admittedly last year our reliability record was not the best we could have hoped for but we worked very hard in this area and made some real improvements on reliability in the second part of the year," Taffin said. "In fact we already had 2015 in mind last year as we ran all parts to the life expected this season. That is, instead of running for the distance demanded by a five-per-year cycle, we tested them based on a four-per-year cycle, or 20% more than required. Even though we pushed the parts harder than they needed to go last year, it gave us the starting point for 2015."
And while the regulations appear daunting, Taffin has confidence Renault has taken all the necessary steps to ensure it has a reliable power unit for Red Bull and Toro Rosso this season.
"Having just four units to play with this year certainly gives us less flexibility and when a part has an issue it will be a lot more difficult to use again. However we feel prepared knowing that the parts have been running to the lifecycle needed for some time with few issues."
Keep up to date with all the F1 news via Facebook and Twitter