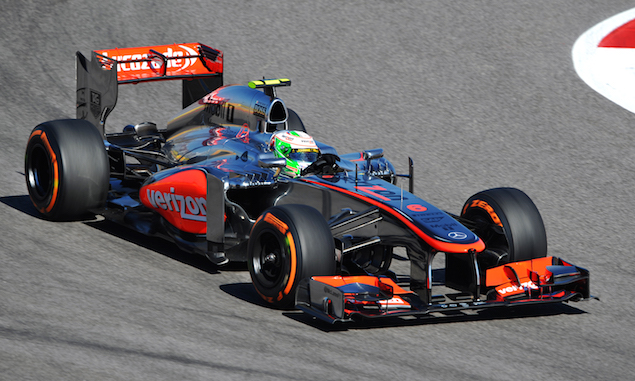 Sergio Perez remembers that his exit from McLaren after only one season felt like "a massive hit", but the Mexican says he is also grateful for the "great learning experience" he had at Woking.
After impressing during a couple of formative years at Sauber, Perez, also a member of Ferrari's young driver academy at that time, was signed by McLaren in order to replace Lewis Hamilton who was on his way to Mercedes.
"My contact with McLaren started at Valencia in 2012," recalls Perez for the official McLaren website. "I think there was an email from Martin Whitmarsh to Jo Ramirez asking for my details, and he forwarded it, and that's how it all started.
"Basically Martin wanted me to not sign for Ferrari at that time, and make sure I was available, and he made me aware of the situation – that most probably Lewis Hamilton was going to leave the team, they were looking for a replacement, and I was high on their list."
Following the elation of joining McLaren, Perez adds that the British team was bullish about his title prospects for 2013, though doubts soon started to creep in.
"The first day we put the MP4-28 on the track we fitted the front suspension the wrong way round and Jenson was P1 straight away! We were very happy about it, but also very concerned – what's going on?
"They [had] changed the concept for 2013. They went for the front of the Ferrari, the middle of the Red Bull, and the rear of the McLaren, and it just didn't work. It was not just a bad car, but also very inconsistent.
"I was still quite new and after Australia all the feedback I was getting from McLaren said we were still going to fight for the title, so I thought once they sorted the issues this team can overcome anything. But through the middle of the season I realised that things were not really moving forward any more."
Perez admits he started overdriving as the season unfolded and frustration grew. Still, the then 23-year-old believed he would be part of McLaren the following season until he received a fateful call from Whitmarsh.
"I was in Mexico, because Austin was the race after, when I got a call from Martin. He said, 'I'm sure this is not the phone call you wanted to receive,' and I thought this is not smelling good!
"He told me that they were not going to continue with me, that they were starting a conversation with a non-F1 driver – which was Kevin Magnussen. He had always told me that my seat was not in danger from any other F1 driver, but Kevin was not an F1 driver…
"I don't think many people could recover from that hit, because it was a massive hit. I was not expecting anything at all, I was already focussing on the next year, and all of a sudden you don't have a drive, and have probably finished your career in F1. I was thinking that my career is over, but then Force India came along."
Since then, Perez has re-established himself as a hot commodity in the paddock by outscoring the highly-rated Nico Hulkenberg and claiming four podium finishes with the Silverstone-based outfit.
DRIVER RATINGS - 2016 Italian Grand Prix
RACE REPORT: Rosberg wins at Monza to cut Hamilton gap to two points
COMMENT: McLaren's 2017 driver line-up: A stroke of genius?
Keep up to date with all the F1 news via Facebook and Twitter