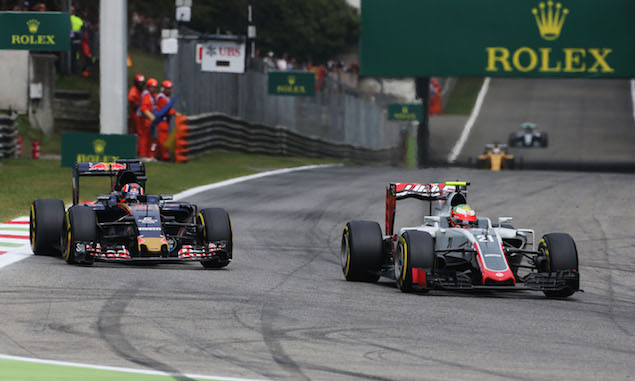 Guentheir Steiner has labelled Haas F1 Team's Monza weekend as "a missed opportunity", after the US outfit failed to convert its top-10 pace on another points haul this year.
Romain Grosjean and Esteban Gutierrez respectively claimed 11th and 13th at the Italian Grand Prix, but their team principal feels a better result was in the offing for Haas, as highlighted by the squad's first-ever Q3 appearance.
"I think the whole weekend was a missed opportunity," Steiner said. "Our car was pretty good here, I would say, from FP1 to FP3. Qualifying we got into Q3. The first opportunity we missed was Romain getting a five-place grid penalty for a gearbox change, so he started 17th which is very difficult.
"And then for Esteban to miss the start, that was the next one. We finished again 11th and 13th which is where we are normally but we should have been ahead of that curve."
Haas' maiden Q3 spot came courtesy of a strong performance from Gutierrez on Saturday. However, the Mexican endured a sluggish getaway off the line and could not open his 2016 points tally as a result.
When it was suggested to him that Gutierrez had perhaps put too much pressure on himself, Steiner added: "I guess so. The pressure got to him, or something. But it's a missed opportunity for us but also for him. These positions are hard to fight for because the field is quite set now."
DRIVER RATINGS - 2016 Italian Grand Prix
RACE REPORT: Rosberg wins at Monza to cut Hamilton gap to two points
COMMENT: McLaren's 2017 driver line-up: A stroke of genius?
Keep up to date with all the F1 news via Facebook and Twitter