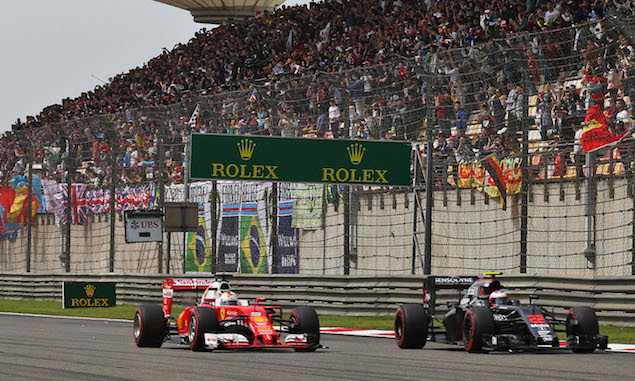 Jenson Button says McLaren could be fighting with Ferrari towards the end of the season as a result of power unit and fuel upgrades.
McLaren has shown consistent progress throughout the season so far, with the team becoming regular Q3 challengers and scoring points in four of the last six races. With a new power unit and fuel upgrade expected in Malaysia and a number of circuits more suited to McLaren, Button believes challenging Ferrari could be possible.
"You have to have aims in this sport," Button told Sky Sports News. "We've come from a position last year where we were in a very difficult situation, we weren't reliable and we didn't have the speed. We've made massive gains over the last 12 months and if you look at what we have coming in the future, we should be able to fight towards the end of the year with teams that are a above us at the moment. Ferrari would be one of them.
"If we could challenge them it would be an amazing way to end the year. It's going to be tough, it's not going to be easy, but we do love a challenge. With the engine upgrades we always have a fuel upgrade. Esso are always bringing a fuel upgrade, so every upgrade we've had with this engine - with the power unit, the ICE, whatever you want to call it - there's always been a fuel upgrade, a big part of the upgrade has been from the fuel.
"It's good progress, we always want more but the guys are doing a fantastic job of bringing those upgrades. I feel that in Malaysia when we get the new upgrade we'll see some performance gains. With the car upgrading all the time, with aerodynamics - downforce levels are pretty good with the car at the moment but there's still work needed in that area - we could be fighting with the red cars."
Honda has previously made clear it would look to improve the combustion process with its final power unit tokens, with the Japanese manufacturer still having three tokens left to spend this season.
2017 F1 driver line-ups so far
F1i Classic: 'Gentleman Jo' Bonnier
Silbermann says ... A letter to Chase Carey
Estimated F1 driver salaries for 2016
Keep up to date with all the F1 news via Facebook and Twitter