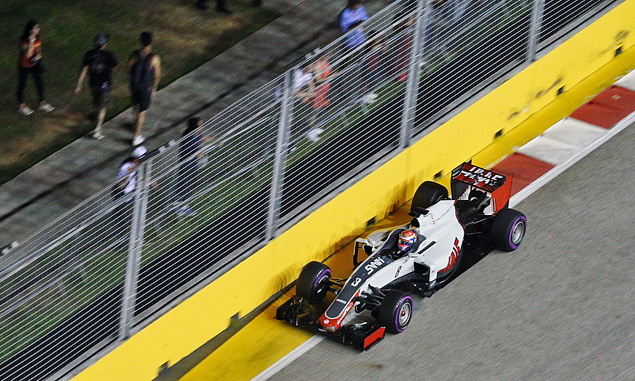 The Haas F1 team says that it has identified the cause of the brake-by-wire problem that sidelined Romain Grosjean in the Singapore Grand Prix last weekend, and plans to have a fix in place in time for Malaysia.
Grosjean suffered a failure of the brake-by-wire system on his way to the grid. Efforts by the team to track down and rectify the issue in time for him to make the start were in vain, meaning that Grosjean failed to make the start.
Team principal Guenther Steiner said that the team had been hard at work since Singapore working out exactly what had happened to Grosjean's car.
"We analyse what we've done and find out what went wrong and try to put measures in place so it doesn't happen again," he said.
"[The brake-by-wire system] is a very complex part of the car, but our problem was very simple. It was a connector that fell off. To get to the connector you have to take the gearbox off and, obviously, there was no time to do that."
"It was strange because in the first corner [of the installation lap] it worked, but all of the sudden it went away. When Romain came back in, all of the electronics personnel tried to reset all of the software settings and it didn't work.
"The guys then took the bodywork off to see if there was any connector that wasn't connected outside of the gearbox, and there wasn't. So at that stage everyone was quite sure it was the brake-by-wire system, which is inside the gearbox. It takes one-and-a-half hours to take the gearbox off and, at that point, the race would be over.
"Sunday night after the race in Singapore, we took the gearbox off and it was as simple as reconnecting it.
"We'll manufacture a device in Europe to be sent via air freight to Malaysia to ensure the connector doesn't fall off again. It will be fitted on the car before we get on track in Malaysia."
F1i's Eric Silbermann asks what Nico Rosberg has to do to get the credit he deserves
From the cockpit: Felipe Nasr on lights and shadows in Singapore
TECHNICAL ANALYSIS: Nicolas Carpentiers checks out the latest innovations seen in Singapore
2016 Singapore Grand Prix - Driver ratings
Keep up to date with all the F1 news via Facebook and Twitter