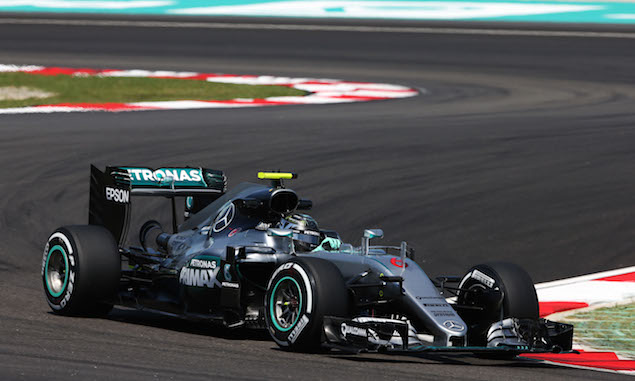 Nico Rosberg says the difference made by the resurfacing of Sepang ahead of the Malaysian Grand Prix is "unbelievable".
The race organisers have changed the asphalt at Sepang as well as modifying a number of corners. As well as the new track surface, a negative camber has been added to the final corner and Rosberg says the changes have a much bigger impact than he was expecting.
"It feels totally different out there," Rosberg said. "It's just unbelievable how just the surface of the track can transform everything, so we really had to adapt a lot today to the new conditions.
"They changed the angle of the track totally so now you have to find a new line through there and I think the best line was not even hitting the apex, you have to stay further out so it's quite interesting.
"It's tighter there [at the apex] so maybe the banking is a little bit more, I don't know, but anyway you just lose grip."
On the changes made at the final corner, Rosberg believes it should have a positive impact on racing as well as challenging drivers over one lap.
"Yeah I think it's a good corner, I think we can learn something from that one. Even when you're following some guy in front you can do two different lines. If you're following closely behind you can go on the inside so there's a little bit less grip but at least you'll have clean air and then you can give it a go on the run down to Turn 1. So for passing it could be cool."
And Rosberg says he is keeping an eye on Red Bull's pace but believes Mercedes has enough in hand to see off any threat at this stage.
"They've done a good job with the new asphalt, it feels nice to drive out there, but the track is very different so all of us had to adapt today. Our car again is going well, Red Bull had a very strong long run so we have to be a bit careful but it's a good start to the weekend."
FP2 REPORT: Hamilton hits back to lead Rosberg in FP2
Silbermann says ... Bugged by Liberty
Romain Grosjean exclusive column: Haas can build momentum for 2017
Chris Medland's 2016 Malaysian Grand Prix preview
Keep up to date with all the F1 news via Facebook and Twitter