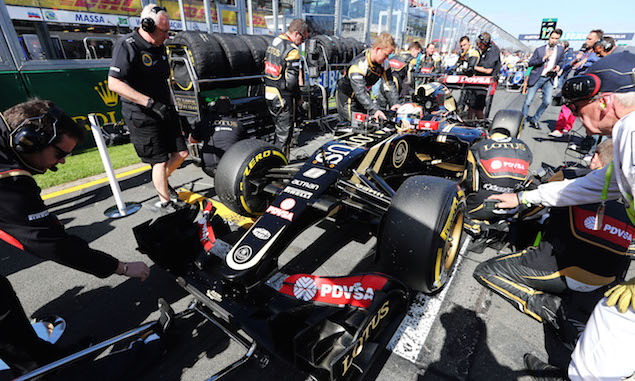 Lotus is seeking a solution for a charge air system leak which blighted its first race weekend of the season.
While Pastor Maldonado crashed out on the opening lap, team-mate Romain Grosjean retired at the end of the same lap after making a very slow start. It transpired that a leak from the charge air system was to blame, and technical director Nick Chester admits it was a recurring problem during the opening race weekend which it had not seen throughout pre-season testing.
"There was a problem with the charge air system where a leak developed and this happened to both cars on Friday," Chester said. "With a bit of work and a few changes we had the initial problem fixed, however unfortunately we saw something similar on Sunday on Romain's car.
"We had done over 4,000kms in winter testing and that issue hadn't occurred so it is a bit strange that it happened now. When you are at the track it can be challenging to solve such an issue rapidly nonetheless we are now rectifying the issue at the factory.
"We have a couple of different approaches and we're doing extensive testing to ensure we have a robust solution."
Click here to learn about a key Mercedes power unit change in 2015
Keep up to date with all the F1 news via Facebook and Twitter