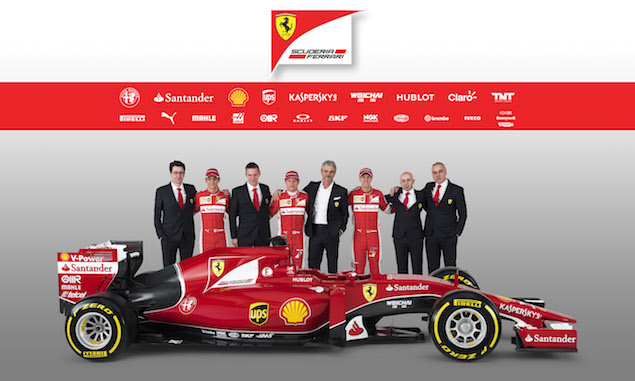 Sebastian Vettel says Ferrari would be happy with one victory in 2015 as he tries to play down expectations for the new season.
Ferrari failed to win a race in 2014, with its last victory coming courtesy of Fernando Alonso in the 2013 Spanish Grand Prix. With the SF15-T launched on Friday, Vettel says the main focus for Ferrari is to show improvement following a winter when a number of key personnel - including Alonso - left the team.
"I think we would be happy [with one win] but of course we would be happier if we win more!" Vettel said. "We have to be realistic, there's a lot of change that happened over the winter so I think most important is that we get in to the groove quickly in winter testing and we start to make progress.
"If the situation is like last year it will be very difficult to fight for victories but of course that's our goal; that's whey we're here, we're not here to finish second."
With Mercedes dominating last season, Vettel is also wary that clear progress from Ferrari will not necessarily put the team in a position to win races.
"There's a lot of change going on, there's a lot of new people in new positions - including myself - so it always takes a bit of time to settle in until you really start to make proper progress. I'm confident that we're going in the right direction but I think it would be wrong to immediately expect a lot of us.
"Obviously we also need to remember we're coming from a 2014 season where there was one team very dominant so it will be difficult to be right there from the beginning but I think for us the main target is to start to really work together, start to make progress and hopefully catch up more and more as the season progresses."
Click here for the full gallery of the first photos of the SF15-T
Keep up to date with all the F1 news via Facebook and Twitter