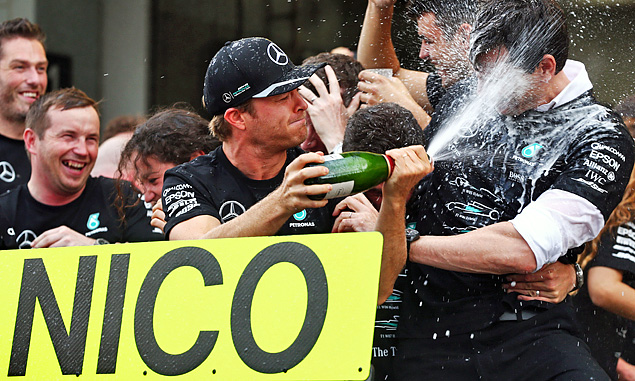 Mercedes driver Nico Rosberg has been praised for his improved understanding of racecraft and strategy in 2016 by the team's technical executive director Paddy Lowe.
"Nico is an incredibly strong driver," said Lowe. "The step that he has made this year is that he has improved his racecraft considerably.
"He's proving himself much better able to fight for the positions," he added. "A few incidents that didn't quite come off how he wanted, but overall that's where he has made the step."
Rosberg himself declined to respond directly to Lowe's comments, and emphasised that he was simply sticking to his strategy of taking things one race at a a time.
"I can't comment on that, with all due respect," he said. "It's good to hear him complimenting me and saying that I made progress in certain areas.
"What can I say to that? I've been feeling good anyways," he added. "It's an ongoing process for me, pushing in all directions and just trying to be better every time. That's what I love doing, pushing myself also to get to higher levels.
"The best reasoning [for taking it race-by-race] is that it's actually working quite well, so why change something if it's working quite well with the approach that I've got at the moment.
"It's not a conscious decision, it's just what I found to work best for me," he explained. "It's a continuation and pushing myself and optimising everything. Working together with my team, it's all a continuation [from last year]."
Rosberg added that pulling clear of Lewis Hamilton in the world championship standings after clinching victory in Japan last weekend wasn't a particular occasion for any sense of relief.
"I'm just happy to win the Suzuka race. I don't feel relief. I feel excited about winning the Suzuka race," he said. "It's about getting the best out of myself and not focusing on what Lewis' state of mind is."
Silbermann investigates the potential EU threat to F1's Liberty Media deal
2017 F1 driver line-ups so far
Scene at the 2016 Japanese Grand Prix
Keep up to date with all the F1 news via Facebook and Twitter