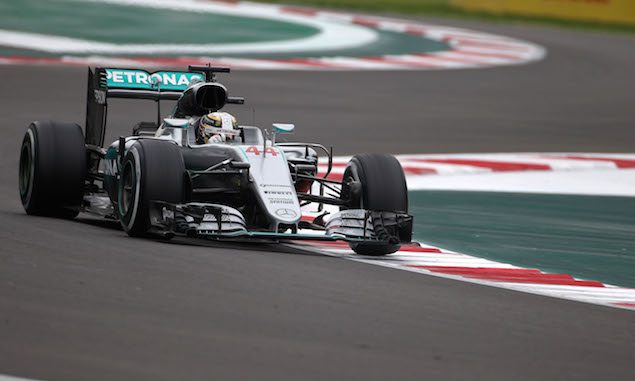 Lewis Hamilton set the fastest time of FP1 for the Mexican Grand Prix ahead of the two Ferraris as Nico Rosberg ended the session seventh fastest.
The opening session saw a number of different approaches to tyre usage from the top teams, with both Mercedes drivers using the soft compound tyre for a short spell but carrying out the majority of their running on the mediums. Hamilton's best lap came on the hardest of the three compounds available - with the supersoft also being used in Mexico - as did Rosberg's.
Ferrari, by contrast, opted to switch to the softs after initial runs on the mediums, leading to Sebastian Vettel going second fastest, just 0.079s off Hamilton's benchmark of 1:20.914. Kimi Raikkonen was third quickest, with exactly the same gap to Vettel as his team-mate had to Hamilton.
Sergio Perez and Nico Hulkenberg pleased the home fans with fourth and fifth in FP1, as both drivers completed all of their running exclusively on the supersoft compound. Perez was just 0.286s off the fastest time of the morning, with Hulkenberg half a second off the pace.
Valtteri Bottas was sixth fastest on the soft tyre, just 0.038s slower than Hulkenberg as Williams started the weekend strongly, with Rosberg, Daniel Ricciardo, Felipe Massa and Daniil Kvyat rounding out the top ten.
The session was delayed for ten minutes just after the half hour after Felipe Nasr's front wing failed, leaving debris on the track. Nasr - carrying the Halo - ran slightly wide exiting Turn 11, with the car vibrating heavily over the exit kerb and the right hand side of his front wing dropping. That half of the wing then folded under the car, shattering under the front right tyre and requiring a red flag to clear the debris.
Soon after the stoppage, Max Verstappen returned to the pits with very hot rear brakes, with Red Bull having to use fire extinguishers before wheeling the car back into the garage. Verstappen didn't return for the rest of the session, with his running ended after ten laps.
With the track low on grip at the start of the weekend, a number of drivers ran wide. Pascal Wehrlein went wide at Turn 2 while also running the Halo on his car, before Jolyon Palmer went off at Turn 12 and Daniil Kvyat spun at Turn 1, a corner where many drivers outbraked themselves throughout the session.
A number of drivers trialled the Halo during the session, with Nasr and Wehrlein being joined by Perez, Massa and Kevin Magnussen in testing the cockpit protection device.
Chris Medland's 2016 Mexican Grand Prix preview
Scene at the United States Grand Prix
Keep up to date with all the F1 news via Facebook and Twitter
| Pos | Driver | Team | Time | Laps |
| --- | --- | --- | --- | --- |
| 01 | Lewis Hamilton | Mercedes | 1:20.914 | 34 |
| 02 | Sebastian Vettel | Ferrari | 1:20.993 | 23 |
| 03 | Kimi Raikkonen | Ferrari | 1:21.072 | 19 |
| 04 | Sergio Perez | Force India | 1:21.200 | 23 |
| 05 | Nico Hulkenberg | Force India | 1:21.409 | 23 |
| 06 | Valtteri Bottas | Williams | 1:21.447 | 34 |
| 07 | Nico Rosberg | Mercedes | 1:21.673 | 32 |
| 08 | Daniel Ricciardo | Red Bull | 1:21.727 | 27 |
| 09 | Felipe Massa | Williams | 1:21.836 | 31 |
| 10 | Daniil Kvyat | Toro Rosso | 1:22.215 | 29 |
| 11 | Romain Grosjean | Haas | 1:22.500 | 21 |
| 12 | Carlos Sainz | Toro Rosso | 1:22.563 | 32 |
| 13 | Marcus Ericsson | Sauber | 1:22.723 | 17 |
| 14 | Max Verstappen | Red Bull | 1:22.877 | 10 |
| 15 | Esteban Gutierrez | Haas | 1:22.910 | 23 |
| 16 | Fernando Alonso | McLaren | 1:23.089 | 25 |
| 17 | Felipe Nasr | Sauber | 1:23.089 | 12 |
| 18 | Jenson Button | McLaren | 1:23.342 | 24 |
| 19 | Kevin Magnussen | Renault | 1:23.556 | 32 |
| 20 | Esteban Ocon | Manor | 1:24.083 | 30 |
| 21 | Jolyon Palmer | Renault | 1:24.097 | 35 |
| 22 | Pascal Wehrlein | Manor | 1:24.350 | 28 |