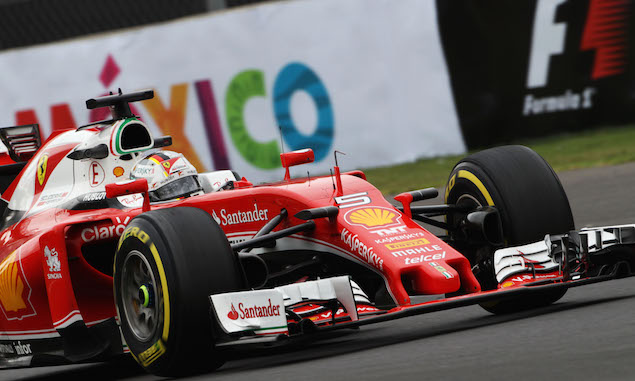 Ferrari driver Sebastian Vettel believes Lewis Hamilton "has more in his pocket" after edging the Mercedes racer by four thousandths in Friday practice for the Mexican Grand Prix.
The German showed encouraging pace as early as FP1, finishing 0.079s behind Hamilton. However, his morning performance came with the caveat that the four-time world champion was on the faster soft Pirelli tyre when the Briton was running on the medium.
And although both drivers set their fastest marks on the same compound in the afternoon, Vettel thinks Hamilton will unlock more speed in Saturday's qualifying.
"It's only Friday and Lewis' lap did not look particularly good," the 29-year-old said. "I think he has a little bit more in the pocket and we need to be realistic for Saturday. If it's still like this, we'll take it for sure but we have to look after ourselves."
Talking about his Friday programme, Vettel added: "We had a very good day, not judging the results but judging the feeling, the overall pace, not for one lap but for the all the laps that we did.
"Also, we did not have any problems. We were always ahead of schedule leaving the garage, which is always a very good sign."
Vettel was vocal on team radio about traffic he hit during FP2, which he says limited his understanding of Ferrari's long run pace.
"Maybe it was just me today, but I felt that I was actually in Mexico City and not on the track today because there was so much traffic. I guess everybody was fighting with the same problems of making the tyres last, especially with the supersofts.
"I don't know entirely because I had so much traffic I didn't have successive laps. But overall the pace was good, so that's the more important thing. I think we can still improve tomorrow and go from there."
FULL REPORT: Vettel edges Hamilton by 0.004s in FP2 in Mexico
Chris Medland's 2016 Mexican Grand Prix preview
Scene at the United States Grand Prix
Keep up to date with all the F1 news via Facebook and Twitter