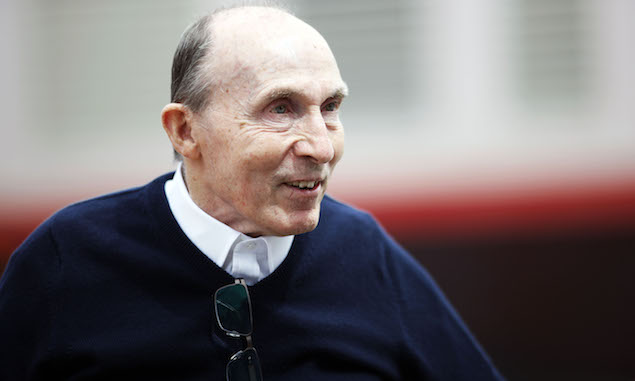 Williams founder and legendary Formula One team principal Sir Frank Williams has been recovering from pneumonia, says group CEO Mike O'Driscoll.
Williams launched the Grove-based outfit with Patrick Head back in 1977. Since then, the Briton has led his squad to nine Constructors' titles and seven Drivers' championships, claiming 114 race wins and 128 pole positions along the way.
"Frank was taken ill at the Monza race," said O'Driscoll during Friday's FIA press conference at the Mexican Grand Prix. 'He has been a fixture in the paddock for so many decades now, it's strange not to have him with us.
"He's had a tough time in hospital. He's contracted pneumonia, he is making a recovery, a slow steady recovery. We hope to see him back at Grove very soon. We all know how determined he is."
This was O'Driscoll's maiden appearance in the Friday conference, which is reserved to team principals and representatives.
Williams deputy team principal Claire Williams, the daughter of Frank Williams, is usually facing the media on these occasions but O'Driscoll explains she has been keen to be with her 74-year-old father during his recovery.
"She's wanted to stay close to home, close to Frank but in this modern world we're only more than a phone call away so we stay connected and she's part of everything that has happened on a day-by-day basis.
"We hope to see her at a race by the end of the year and hopefully that will be Abu Dhabi."
Chris Medland's 2016 Mexican Grand Prix preview
Scene at the United States Grand Prix
Keep up to date with all the F1 news via Facebook and Twitter