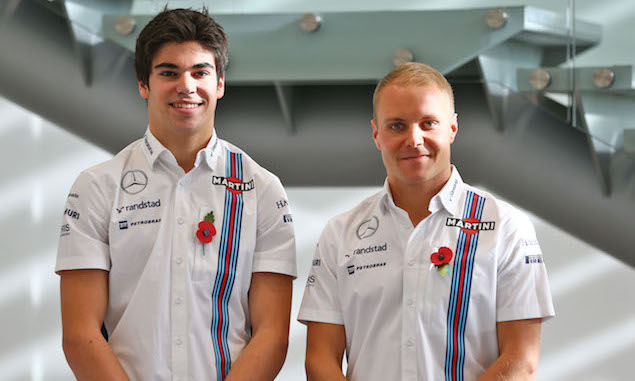 New Williams driver Lance Stroll admits he "may not do well" compared to his more experienced team-mate Valtteri Bottas during his debut Formula One season.
Both drivers were confirmed as the Williams pair for 2017 on Thursday, with the European Formula 3 championship winner set to be the second youngest entrant in F1 history behind Max Verstappen, who also graduated straight from F3 in 2015 with Toro Rosso.
"I have to learn a lot of new things ahead of next season," Stroll said. "I'm a rookie so I may make some mistakes while learning new areas but I am looking forward to that and I have Williams behind me helping with that.
"I also have Valtteri who is a benchmark for me and who I will be able to learn a lot from. This year was a great year and hopefully I can learn from it and use it but for sure there will be a lot of new things so I will start from zero.
"For sure experience helps, and no matter what I am going to be a rookie and may not do well compared to say Valtteri as he has a few seasons in F1."
When asked about the targets he plans on setting for his maiden campaign, the Canadian teenager added:
"I want to see where we are first. The right thing to do would be to go into winter testing with a clear mind, and then work with the team and Valtteri and work out the areas I'm good in and then the areas I need to improve on.
"I'm not going to set any goals, or unrealistic goals, I'm just going to take it race by race."
FEATURE: Foul Play or Foul Language
Scene at the 2016 Mexican Grand Prix
Mexican Grand Prix - Quotes of the week
15 minutes with ... Nico Rosberg
Keep up to date with all the F1 news via Facebook and Twitter