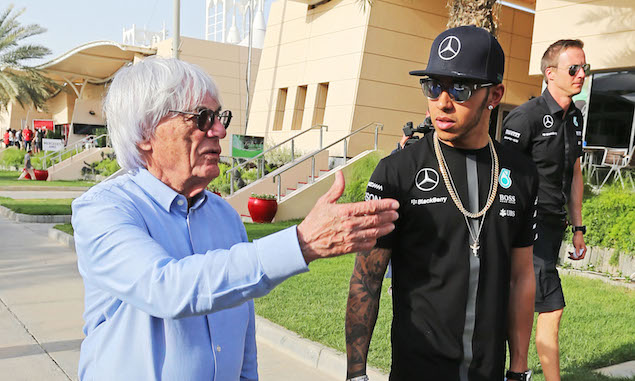 Formula One boss Bernie Ecclestone says the sport would need "half a dozen" drivers like Mercedes' Lewis Hamilton, while also singing the praise of Red Bull ace Max Verstappen.
The 86-year-old has often hailed Hamilton's "100% box-office" aura and appeal, saying the Briton has fully embraced his role as a triple world champion to support and promote F1.
While the sport's new owners Liberty Media continue to assess their recent acquisition, Ecclestone feels the series would benefit from having more figures like Hamilton.
"Lewis is a little bit special - as a person and as a driver," the Formula One group CEO told the official F1 website. "He is doing a super job. We would need half a dozen Lewis's."
Verstappen has also come into the good graces of Ecclestone, who leapt to his defence when the Dutchman came under fire for his swashbuckling driving style and robust defending.
"Max's position is he's wanting to get there, he wants to win," added the supremo. "And he has got the quality and the talent to do it. He is racing - and that is what he is supposed to do! The drivers in F1 are supposed to race each other."
FEATURE: Foul Play or Foul Language
Scene at the 2016 Mexican Grand Prix
Mexican Grand Prix - Quotes of the week
15 minutes with ... Nico Rosberg
Keep up to date with all the F1 news via Facebook and Twitter