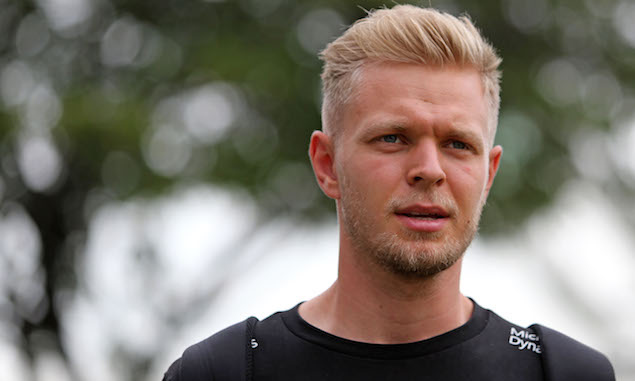 Haas has confirmed Kevin Magnussen will join Romain Grosjean the team in 2017 on a multi-year contract, replacing Esteban Gutierrez.
Magnussen agreed the deal last week, before informing Renault he would not be taking up its offer of a contract extension. Renault duly announced Jolyon Palmer would remain with the team alongside Nico Hulkenberg, with Esteban Gutierrez then confirming he will leave Haas at the end of the season.
Haas has now confirmed Magnussen's arrival, with the former McLaren driver set to partner Grosjean in 2017, as the Frenchman remains for a second season with the US team.
"This is a fantastic opportunity and I'm very happy to be a part of Haas F1 Team," Magnussen said. "Obviously, I'm confident in my abilities as a Formula One driver, but I'm also very confident of what Haas F1 Team can do in its second season and every season thereafter.
"Gene Haas has come into Formula One with a strong vision and a different way of doing things. He's making it work and work well. I've had a good vantage point all season long, and I'm looking forward to getting behind the wheel of next year's Haas VF-17."
Magnussen made his F1 debut with McLaren in 2014 before stepping down to a reserve role in the wake of Fernando Alonso's return to Woking.
The 24-year-old's career received a lifeline when Renault promoted him to a race seat to replace the departing Pastor Maldonado on the eve of the current campaign.
Despite receiving an offer to stay at Renault, Magnussen turned it down as he felt the French manufacturer showed a lack of commitmment after offering the job to many other drivers.
Magnussen will now partner Grosjean, who has scored all of Haas' 29 points so far this season and has confirmed he will remain with the team in 2017.
"A little more than a year ago I made my decision to join Haas F1 Team and it was absolutely the right decision," Grosjean said. "I'm very proud to be a part of the team's development and am very happy we can continue to grow and achieve more success in the years ahead."
FP2 REPORT: 0.030s separate title rivals in FP2 at Interlagos
Silbermann says ... I'm going AWOL
Romain Grosjean column: Time for Haas to raise its game
FEATURE: What Rosberg need to do to win the title in Brazil
INTERVIEW: Fernando Alonso: Why F1 is no longer just for heroes
TECHNICAL: Under the skin of the Ferrari SF16-H
Keep up to date with all the F1 news via Facebook and Twitter