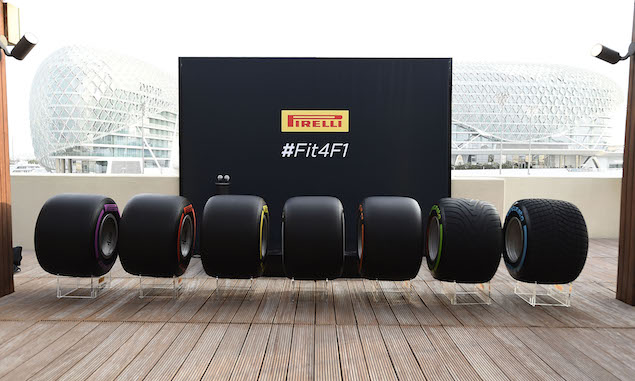 Formula One's official tyre supplier Pirelli has revealed its full range of compounds for the 2017 Formula One season at the Abu Dhabi Grand Prix.
Next year will see the introduction of faster cars fitted with tyres that will be around 25%, as dimensions increase from 245mm to 305mm at the front and from 325mm to 405mm at the rear.
In order to help finalise its 2017 products, Pirelli has relied on Ferrari, Red Bull, and Mercedes to supply it with mule cars simulate next year's increased levels of downforce.
Tyre testing for next season started on August 2 and will end on November 29, with all three teams set to have their modified machines on track together for the first time.
"I'd like to thank all the teams that have allowed us to develop our new wider tyres for 2017, using their mule cars, Pirelli motorsport director Paul Hembery said.
"We've made huge steps forward since trying the new tyres out for the first time at the beginning of August and we're pleased by the results obtained with the majority of the specifications.
"We know however that the work is just beginning. The aerodynamic progress made by next year's cars will lower lap times by around five seconds compared to 2015, and about three seconds compared to this year.
"The new cars that will take to the track for the first time in February will have a downforce increase of more than 20 per cent: much more than we have seen with the mule cars.
"And that progress will continue throughout the whole of next season. So the next phase of our development, aimed at 2018 when the cars will be faster still, already begins in February."
Although F1 bosses are aiming at a five-second improvement for 2017, several leading technical figures, including Williams' Pat Symonds, doubts the target will be met.
Below is a graphic that recapitulates how 2017 tyre testing has gone so far:
Grosjean column: Magnussen and THAT crash in Brazil
Chris Medland's 2016 Abu Dhabi Grand Prix preview
FEATURE: Hamilton v Rosberg: 2016 F1 drivers' title permutations
TECHNICAL: Under the skin of the McLaren-Honda MP4-31
Keep up to date with all the F1 news via Facebook and Twitter