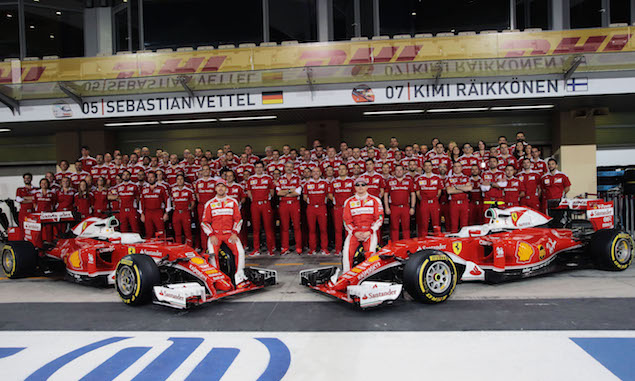 Sebastian Vettel says Ferrari can't be proud of its season in 2016 having started the year with the aim of winning the drivers' championship.
The four-time world champion won three races in his opening season at Ferrari in 2015, finishing third in the drivers' championship behind the Mercedes pair of Lewis Hamilton and Nico Rosberg. Following such a strong year, Ferrari targeted fighting for the championship until the final race this season but has failed to win so far as Red Bull has beaten it to second in the constructors'.
Vettel says there are clear areas Ferrari needs to improve in 2017 and admits this year has to be seen as a failure due to the team not hitting its targets.
"If you want to speak about the deficit on the car we have plenty of work ahead of us this winter," Vettel said. "Next year's rules are very different but looking purely at what is missing this year is a little bit of downforce compared to our main rivals.
"I think we have made a very good job since the beginning of the year but not especially on Saturdays when Mercedes seems to still have a little bit of a trick and can step up more than other manufacturers. They are the two main points we have been missing out on this year and the two we need to focus on for next year.
"I don't need to explain that in F1 these days even if you build a better chassis or car it is dominated by aerodynamics. A third one could be to add is that sometimes we struggle to get the tyres in to work in the window. If you have a car which produces a lot of downforce you can do yourself a favour with the tyres. Those two go hand-in-hand.
"Overall I think the car is a very good step from last year and I think our performance was probably better than the results we have shown at times but the circumstances haven't always been the best.
"Nevertheless, we can't be proud of this year because we came through the season wanting to fight for the championship and we did not so it is the target for next year, that is very clear. It is an enormous challenge for all of the teams including ourselves to get the cars ready for next year with so many changes but that is what we are here for."
However, Vettel says the way Ferrari has dealt with such a difficult season is one of the more positive aspects within the team at present.
"I think the strongest point we have is the spirit inside the team. Very often this year we might have been criticised but we are working very hard, people are very committed here. I have said many times we wanted something more this year but for many reasons it didn't happen."