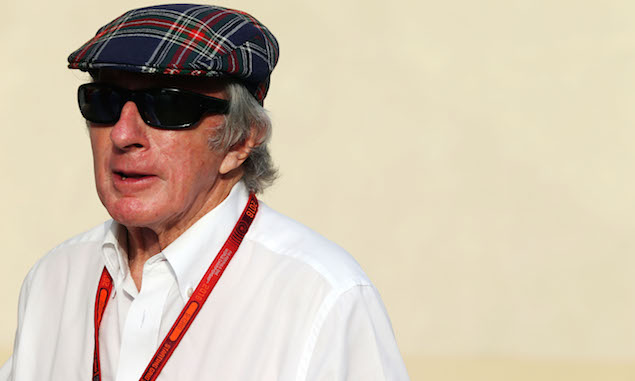 Sir Jackie Stewart thinks fellow triple Formula One world champion Lewis Hamilton should have been more gracious in last weekend's 2016 title decider in Abu Dhabi.
The Mercedes driver ignored team orders to pick up his pace and deliberately backed his team-mate Nico Rosberg into the path of cars behind them in a bid to seal a fourth crown.
Although Hamilton was quick to congratulate his German rival on his first title, he also hinted at the topic of reliability issues in the post-race press conference to underline how he feels these cost him the championship.
"There has to be a little dignity involved sometimes in winning, sometimes not winning," Stewart told Sky Sports F1 when made aware of his compatriot's remarks. "When something like that happen, you need to forget the past.
"He won the grand prix, pretty impressive, he's won 10 grands prix this year. He should not be unhappy. He's won the world championship three times. Not that many people have won it that many times. He should be happy for it.
Talking about Hamilton's slow pace tactics and refusal to obey Mercedes' instructions, the Scotsman added: "I don't think in my days any of us would have done that or said that. You just have to […] follow team orders. To be with Mercedes, a totally dominant team, he should be grateful not upset.
"The team did the right thing, [this year has been] a confirmation of how good they are but you have got to have good relationship within the team as well, particularly with your team-mate."
Stewart also had a few words to welcome Rosberg to the exclusive clubs of F1 world champions.
"It's a just reward for Nico. He does the sport beautifully. He behaves himself very well, he represents the sport well. Great year for Mercedes but for Lewis it's been a great year also. He's missed the world championship this time but there'll be another time I'm sure he'll win it again."
2016 Abu Dhabi Grand Prix - Driver ratings
REPORT: Hamilton wins, as Rosberg takes title in Abu Dhabi
Jenson Button's F1 career: 17 seasons, 15 wins
Silbermann says ... Parting gifts galore
Keep up to date with all the F1 news via Facebook and Twitter