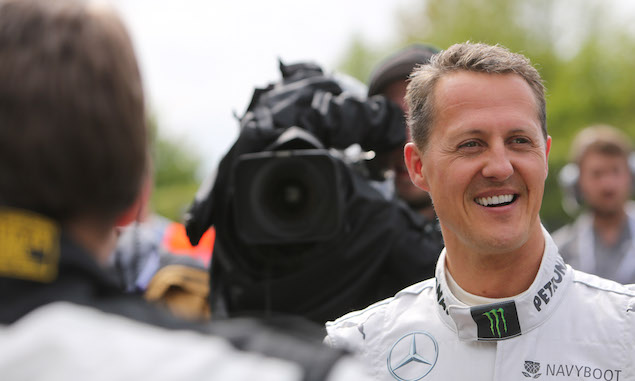 The family of Michael Schumacher has launched an initiative aimed at using support for the seven time world champion "as a force for good".
Schumacher suffered severe head injuries in a skiing accident nearly three years ago, spending six months in a medically-induced coma following the incident at the end of December 2013. The hashtag #keepfightingMichael has been popular on Twitter since Schumacher suffered the injuries, and now his family have moved to harness the support from the German's fans.
"Keep Fighting seeks to channel the positive energy received by Michael Schumacher and the Schumacher family as a force for good in the world," the initiative states. "The non-profit initiative hopes to unite that positive energy as a global movement and to prove that giving up is not an option.
"Keep Fighting plans to develop projects in house to bring joy to Michael Schumacher's many fans and supporters as well as to strengthen the community of people who are inspired by the career and character of the seven times Formula One world champion."
Sabine Kehm, Schumacher's manager, says the aim is to try and find positives in the 47-year-old's situation.
"This is a first step of a movement which we hope can do good in the future," Kehm said. "The intention of the Keep Fighting Initiative is to spread the belief that giving up is not an option, a message that is valid not only in motor racing.
"In this way, we hope to turn a terrible event, which affects the whole Schumacher family, into something positive."
More information can be found at: www.keepfighting.ms
Silbermann says ... Stay away Felipe
Romain Grosjean column: 2016 showed exciting Haas potential
TECHNICAL: Under the skin of the Williams FW38
Jorge Lorenzo: When a two-wheel champion tests a Mercedes
Keep up to date with all the F1 news via Facebook and Twitter