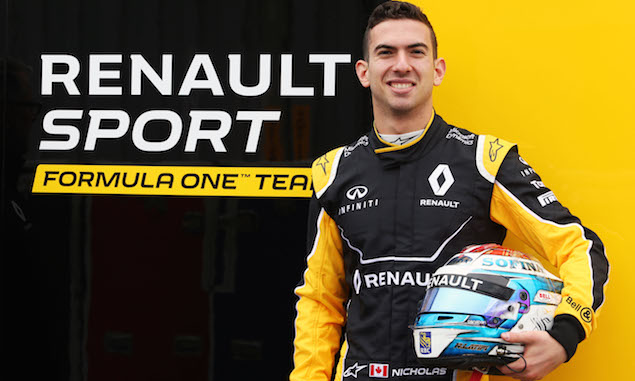 Renault test and development driver Nicolas Latifi is hoping for further involvement with the F1 team in 2017.
The Canadian was named as one of Renault's test drivers back in March, with the promise of an FP1 appearance once he had secured his Super Licence. While he did work with the team at certain races, Latifi's Friday practice run never materialised and he says his target is to increase his involvement next season.
"I have been involved with the team at a number of F1 race weekends and experiencing the races from behind the scenes, working and being part of it, makes me want it even more," Latifi said.
"It confirms my F1 goal; it's what I want to do and that's what I'm working towards. I really enjoyed those experiences and hopefully next year I'll be able to go to more races and keep learning."
Latifi made sporadic appearances in GP2 in 2014 and 2015 before committing to his first full season in the series this year, racing for DAMS. The 21-year-old finished second in the opening race but struggled to repeat that result and admits he wants to find more consistency next year.
"The single biggest challenge was learning how to manage the Pirelli tyres in a race. At the beginning of the season I thought the issue would be more about qualifying than the races. It turned out to be the opposite. Even though I had a few good qualifying results, l know from looking at the data that the potential was always there for much better qualifying form.
"Next year's qualifying target will be to put it all together and avoid mistakes, traffic and bad luck. Historically, qualifying has been a bit of a weakness in my formula car career. But for the most part, qualifying wasn't an issue this season – and in terms of showing potential it exceeded my expectations. I thought the racing was going to be easier but that wasn't the case. Together with the team we're getting on top of that now and, especially over the winter, there will be lots of analysis following the end of season test where I ended the three days as the fastest driver."
2016 team-by-team review: Part two
2016 team-by-team review: Part one
Andrew Green: Force India's smooth operator
Keep up to date with all the F1 news via Facebook and Twitter