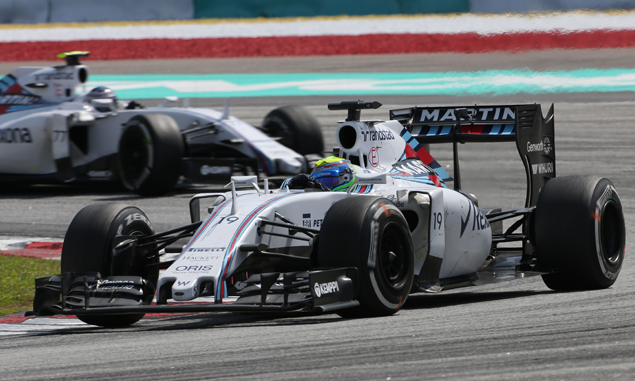 Williams performance chief Rob Smedley says his team will bring "a few upgrades" to its FW37 during this weekend's Chinese Grand Prix, as the Grove-based squad endeavours to catch Mercedes and Ferrari.
The British outfit was tipped as the reigning champions' most serious contender ahead of the 2015 campaign only to be leapfrogged by a resurgent Scuderia in Melbourne's season-opening round.
The trend became even more pronounced in Malaysia, where Valtteri Bottas and Felipe Massa finished fifth and sixth respectively, and over a minute behind Sebastian Vettel's race-winning Ferrari.
While Smedley thinks Shanghai International Circuit presents a tough technical challenge, the British engineer hopes the planned developments will help Williams make some inroads in reducing the gap to the frontrunners.
"On the back of a very hot race in Malaysia, we head to China where we are expecting considerably different conditions," said Smedley. "It is often a struggle to get the temperature in to the tyres for qualifying, and you then have to manage front left tyre degradation in the race.
"That struggle will be even tougher this year with the improved rear Pirelli construction. It's a challenging circuit, with a tough left hander before one of the longest straights on the calendar.
"The turn 1, 2, 3 complex is also very interesting and offers a good technical challenge. There are two different techniques here for a quick qualifying lap and a quick race lap, so we will work through these early in the weekend to be prepared.
"We have a few upgrades coming to the FW37 that we are expecting to deliver an increase in performance. There is always a high probability of rain, so we will also need to be prepared for this possible curveball."
Click here for Chris Medland's Chinese Grand Prix preview. 
Keep up to date with all the F1 news via Facebook and Twitter