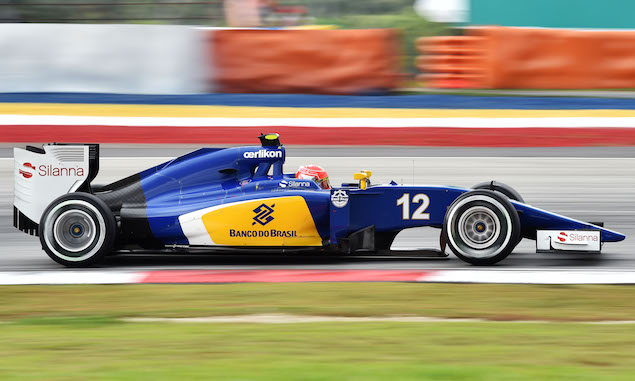 Felipe Nasr believes Sauber will be competitive in the Chinese Grand Prix, with the track and conditions playing to the car's strengths.
Sauber started the season with both cars scoring points in Australia, with Nasr himself finishing an impressive fifth on his grand prix debut. Having struggled in Malaysia, Nasr says the long back straight in China should play in to Sauber's hands, and is expecting to challenge for points once again this weekend.
"It's all different, different conditions; the hot conditions back in Malaysia didn't really help our car, but I think the conditions here could be a lot better for us," Nasr said. "It's a lot closer to Melbourne.
"We start fresh again. It will be the first time that I have the three sessions available to me to work on the set-up of the car, to understand the track and to optimise the driving as well for everything, so I'm looking forward to this one.
"As you can see our top speeds are pretty good in all the circuits that we've been to and we have the longest straight here in China so I think that could be a plus to us. From everything I hear I think there's still some margin for us to come from Ferrari which should come through the year."
And Nasr says Sauber needs to take advantage this weekend as he can see teams around it getting stronger with each round.
"There are still some teams having trouble to get a good package. Some teams are able to get a good lap in qualifying, that's not a problem, but then in a race distance you see other things happening. So we don't know how long this will stay like this so when I say we need to take the advantage now it's because we never know when things can change.
"What I feel is to score points is still our goal. Realistically, the fifth place in Melbourne is a difficult one to repeat because already everyone is making some steady steps from race to race, but any points will be a huge result already."
Click here for Chris Medland's Chinese Grand Prix preview. 
Keep up to date with all the F1 news via Facebook and Twitter