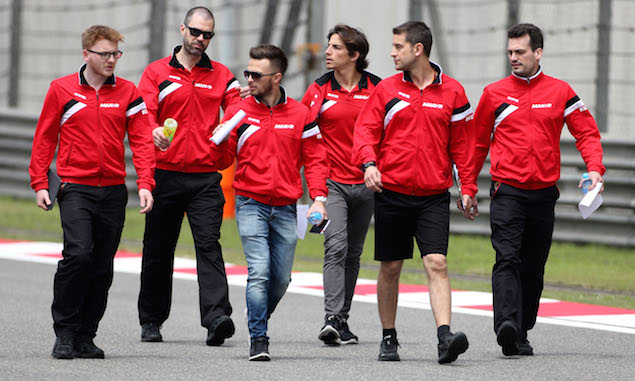 Will Stevens says Manor should complete more mileage at the Chinese Grand Prix after receiving a sceptical response to its approach in Malaysia.
Having looked quick enough to qualify at Sepang, Stevens missed both qualifying and the race with a fuel system issue. With Manor failing to run two cars at any one time during the race weekend, rival teams were unhappy with the approach. However, Stevens says the issue has been resolved and the team now has more items to help run the cars in China.
"The car is going to be the same, we're just going to have a lot more here to help the weekend run smoothly," Stevens said. "The issues that came up in Malaysia shouldn't come up again this weekend. In terms of our actual car, everything's the same … We should be doing more laps this weekend."
Despite failing to take part in qualifying or the race at either of the opening two rounds, Stevens insists he is not running out of patience with Manor having been aware of how tough the start of the season was likely to be.
"We came into this year knowing the first few races would be difficult. I want to be out in quali and racing, and if I'm not then I'm going to be disappointed and frustrated.
"My job is to race, which is what I want to be doing. But I understand everything that has gone on. It's great the team are back and I understand the effort that has gone into that. It's not as if I'm sitting here not understanding what everyone has had to go through.
"I'm part of the team and I need to understand everything that is going on. As I do, it makes it easier to get through. So third time lucky, and I hope this weekend will be good."
Click here for Chris Medland's Chinese Grand Prix preview. 
Keep up to date with all the F1 news via Facebook and Twitter