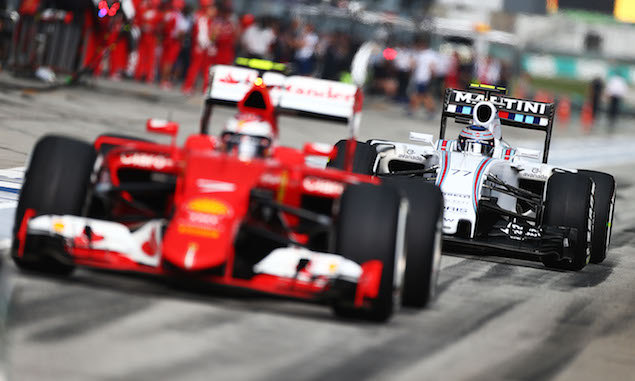 Valtteri Bottas says Williams should be closer to Ferrari in China after admitting the Malaysian Grand Prix winners were "pretty special" at Sepang.
Williams has started the season as the third quickest team behind Mercedes and Ferrari, with both cars finishing over a minute behind race winner Sebastian Vettel in Malaysia. Ferrari appears to have made the biggest step forward with its power unit compared to 2014, but Bottas says tyre management played the most crucial part in Vettel's victory and he doesn't expect it to have such a big impact on performance in Shanghai.
"For sure they made a really big step with the engine but also with the car," Bottas said. "I think in Malaysia the way they could manage the tyre temps I think was the main thing really. I think they were pretty special how they could do that, just to keep doing the same pace for such long stints. We obviously have some work to do on that side, but here should be more equal to them with these conditions."
Bottas points to the drivability of the Mercedes power unit as one area where Williams can improve relative to Ferrari.
"We are still working on the drivability, it's still not quite as good as maybe the end of last year. But we are still improving every time we go out basically. Trying some different things here, hopefully it will be nice and smooth.
"[It's important] especially exiting slow speed corners. The more your tyres get worn the more sensitive it is. With good drivability it makes your life much easier to manage the tyres and just to limit the wheelspin.
"I've heard that also other Mercedes teams have had similar issues. I would think that all the information is shared, normally that should be the case so I don't think anyone is really a big step forward with the same engine."
Click here for Chris Medland's Chinese Grand Prix preview. 
Keep up to date with all the F1 news via Facebook and Twitter