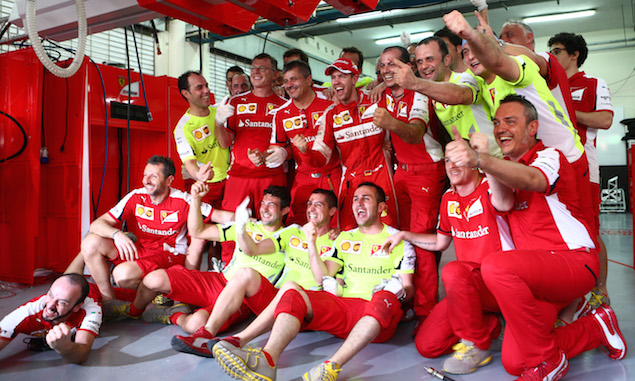 Sebastian Vettel says Ferrari needs to be "realistic" about its targets for the Chinese Grand Prix after enjoying the team's rituals after victory in Malaysia.
Success at Sepang was Vettel's first for Ferrari and the team's first win since the 2013 Spanish Grand Prix. Following the race, Vettel returned to the factory where he was able to address the team, but he has warned against getting carried away ahead of this weekend's race in China.
"We are realistic about where we are, what we want to achieve, and the targets haven't changed," Vettel said. "It was a great victory we had in Malaysia, great for us as a team, and for myself a very emotional day - my first win with Ferrari.
"When I returned to the factory on Wednesday to see all the people there was quite special. There are a lot of people working there and as you can imagine they were very, very happy. The team hadn't won for quite a while, so they enjoyed the fact they had something to celebrate. There were a couple of rituals involved, so it was nice for them to get that feeling again."
Asked specifically about the rituals which took place at Maranello, Vettel replied: "I was supposed to be there for simulator work, but it was quite nice to receive the welcome after the win.
"All the factory got together for a quick lunch. It was quite nice to have all the people together in one room - it was a big room! - so we were able to celebrate altogether for a bit.
"I also learned that when you win with Ferrari at the entry gate they raise a Ferrari flag. Obviously it's been a long time since there was last a flag. Some 10 years ago there were a lot of flags, especially at the end of a season, so this flag will stay there for the rest of the year. We will, of course, try and put another one sometime soon."
Click here for Chris Medland's Chinese Grand Prix preview. 
Keep up to date with all the F1 news via Facebook and Twitter