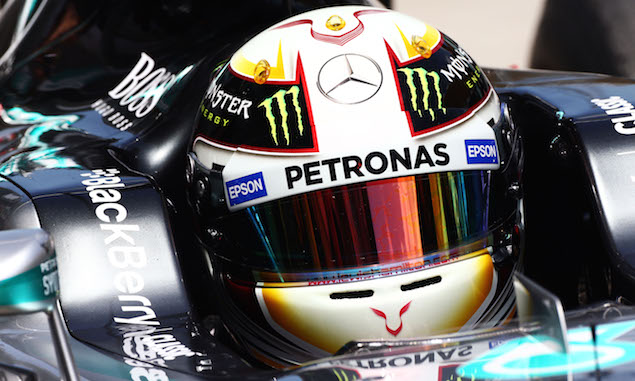 Lewis Hamilton set the fastest time of first practice for the Chinese Grand Prix as Mercedes dominated the opening session of the weekend.
Fresh from Ferrari's shock victory in Malaysia, Mercedes enjoyed a significant advantage over the rest of the field during FP1 in Shanghai. Hamilton struggled in the early part of the session but recovered to post a best time of 1:39.033 to lead team-mate Nico Rosberg by over half a second.
However, it was the gap back to Ferrari which was ominous as Hamilton headed Malaysian Grand Prix winner Sebastian Vettel by over 1.1s during the morning session. The two Ferraris had a small cushion over the rest of field in third and fourth, with Felipe Nasr fifth for Sauber but 0.8s slower than Vettel - who improved with his final lap - and nearly 0.4s off Kimi Raikkonen.
Felipe Massa had been set to improve late on and perhaps challenge Vettel and Raikkonen for the third best time, but the Brazilian locked the rears of his Williams braking for the hairpin and had a low speed spin on the outside of the corner.
Massa wasn't the only driver to have a spin on a track which was low on grip, with Jolyon Palmer also spinning exiting Turn 9 during his first Friday practice appearance for Lotus. Carlos Sainz Jr similarly spun at the first corner, while both Mercedes drivers also had off-track excursions, with Turn 1 and the hairpin at Turn 14 catching out a few cars.
The two Red Bulls of Daniel Ricciardo and Daniil Kvyat were sixth and seventh respectively, but were both two seconds off the pace. While the gaps at the top were big, Nasr in fifth place back to Palmer in 15th was less than one second.
Included in that pack was Jenson Button's McLaren, with both MP4-30s enjoying an encouraging start to the weekend. Button ended the session 13th, 0.9s away from Nasr in fifth and 2.8s off the overall pace. Fernando Alonso was down in 17th but had a spell in the garage towards the end of the session.
There was also improvement for Manor as both Will Stevens and Roberto Merhi ran on track at the same time in the final half hour of FP1, with the two drivers completing 38 laps between them.
By Chris Medland in Shanghai
---
Click here for Friday's gallery from the Chinese Grand Prix 
Keep up to date with all the F1 news via Facebook and Twitter
| Pos | Driver | Team | Time | Laps |
| --- | --- | --- | --- | --- |
| 01 | L. Hamilton | Mercedes | 1:39.033 | 21 |
| 02 | N. Rosberg | Mercedes | 1:39.574 | 21 |
| 03 | S. Vettel | Ferrari | 1:40.157 | 18 |
| 04 | K. Raikkonen | Ferrari | 1:40.661 | 27 |
| 05 | F. Nasr | Sauber | 1:41.012 | 18 |
| 06 | D. Ricciardo | Red Bull | 1:41.029 | 21 |
| 07 | D. Kvyat | Red Bull | 1:41.097 | 24 |
| 08 | C. Sainz | Toro Rosso | 1:41.112 | 23 |
| 09 | V. Bottas | Williams | 1:41.303 | 23 |
| 10 | F. Massa | Williams | 1:41.304 | 17 |
| 11 | P. Maldonado | Lotus | 1:41.335 | 23 |
| 12 | M. Verstappen | Toro Rosso | 1:41.575 | 28 |
| 13 | J. Button | McLaren | 1:41.845 | 19 |
| 14 | M. Ericsson | Sauber | 1:41.918 | 24 |
| 15 | J. Palmer | Lotus | 1:41.967 | 25 |
| 16 | S. Perez | Force India | 1:42.141 | 22 |
| 17 | F. Alonso | McLaren | 1:42.161 | 20 |
| 18 | N. Hulkenberg | Force India | 1:42.184 | 19 |
| 19 | W. Stevens | Manor | 1:45.379 | 18 |
| 20 | R. Merhi | Manor | 1:44.443 | 20 |