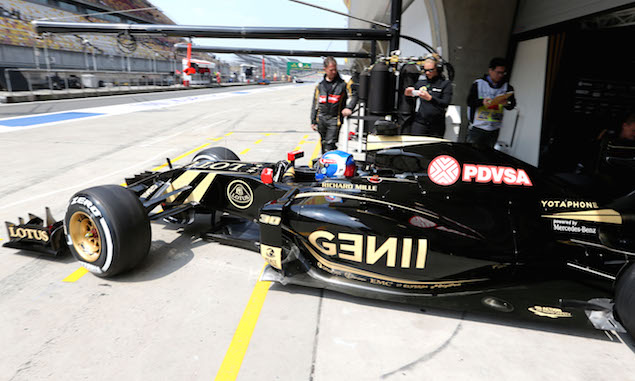 Jolyon Palmer says a spin on the second lap of his Friday practice debut was "the only thing that didn't go smoothly" in China.
The 2014 GP2 champion was making his FP1 debut for Lotus at the Shanghai International Circuit when he lost the rear of his car exiting Turn 8 and slid sideways off the circuit. Having recovered to complete 25 laps and setting a best time just 0.6s slower than Pastor Maldonado in the other car, Palmer says he is pleased with his progress on a new circuit.
"It was a good session for me," Palmer said. "There was always going to be a lot to learn as I hadn't driven the car for two months, and I haven't been here before. I didn't even drive it on the simulator.
"There was a lot to take in, I had to build up from scratch. In the end I got a lot of laps in and I managed to build up a reasonable enough pace, one I was quite happy with given the circumstances.
"It was quite a smooth session. I had a nice slide on lap two, but apart from that it went to plan. We went through all the testing we needed to do, new parts, aero, all the procedures, a lot of practice starts, so I'm quite happy."
Explaining his spin, Palmer admits he was set back by the incident having been caught out on a track low on grip.
"It was a green track, I was still getting up to speed with the car and circuit, and the two of them came together in a bit of a horrible mess. The next thing I knew I was sideways into the right-hander, but I kept it out of the barriers, gravel, and I got it going again.
"I lost a bit of confidence and it took a couple of laps to get back into the swing of it, and I had vibrations as well as I'd flat-spotted the tyres quite well. It wasn't a big problem, but it obviously wasn't ideal to have that on the second lap. It was the only thing that didn't go smoothly."
By Chris Medland in Shanghai
---
Click here for Friday's gallery from the Chinese Grand Prix 
Keep up to date with all the F1 news via Facebook and Twitter