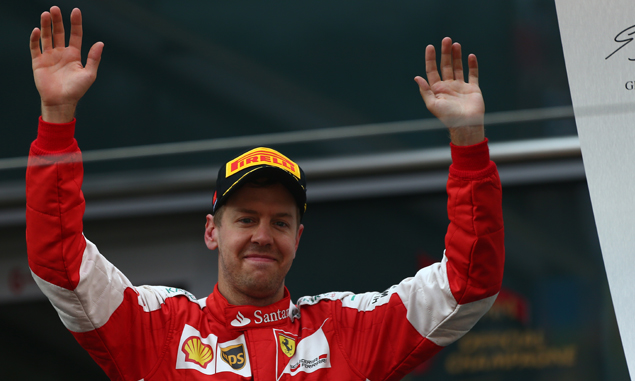 Sebastian Vettel takes satisfaction from Ferrari being able to challenge Mercedes in Sunday's Chinese Grand Prix after the four-time world champion secured his third podium finish in as many events in 2015.
Vettel enjoyed a clean start from the second row and stayed within threatening distance to both W06 Hybrids in the early stages of the race.
Opting for a more aggressive strategy, the Ferrari driver went for the undercut at the initial round of pit stops before upping the pace during a second stint that saw him close the gap to the leading duo.
Although Vettel could not reel in the Mercedes pairing over the final third of the race, the 27-year-old German feels there are a lot of positives to take from Shanghai.
"I think it was a good race all in all," said Vettel. "We were a bit closer probably on the softer compound of tyres and we were able to put some pressure on them.
"We tried everything we could today, I think it was pretty close, especially the first pit stop. I did not expect it to be that close, maybe I should have pushed a bit harder on the outlap. Obviously, it's tricky here because you always try to look after the tyres.
"We tried to put more pressure by stopping fairly early for the last set of tyres but I think on the harder tyres, they were just a bit too quick so they were able to pull away."
With Ferrari's Chinese Grand Prix performance boding well for the future, Vettel hopes there is more to come from the Scuderia.
"If we keep doing that and we keep getting closer obviously we'll get to the the point where we put some real challenge for these guys, which I am really looking forward."
Click here to look under the skin of the front-running 2015 cars 
Keep up to date with all the F1 news via Facebook and Twitter